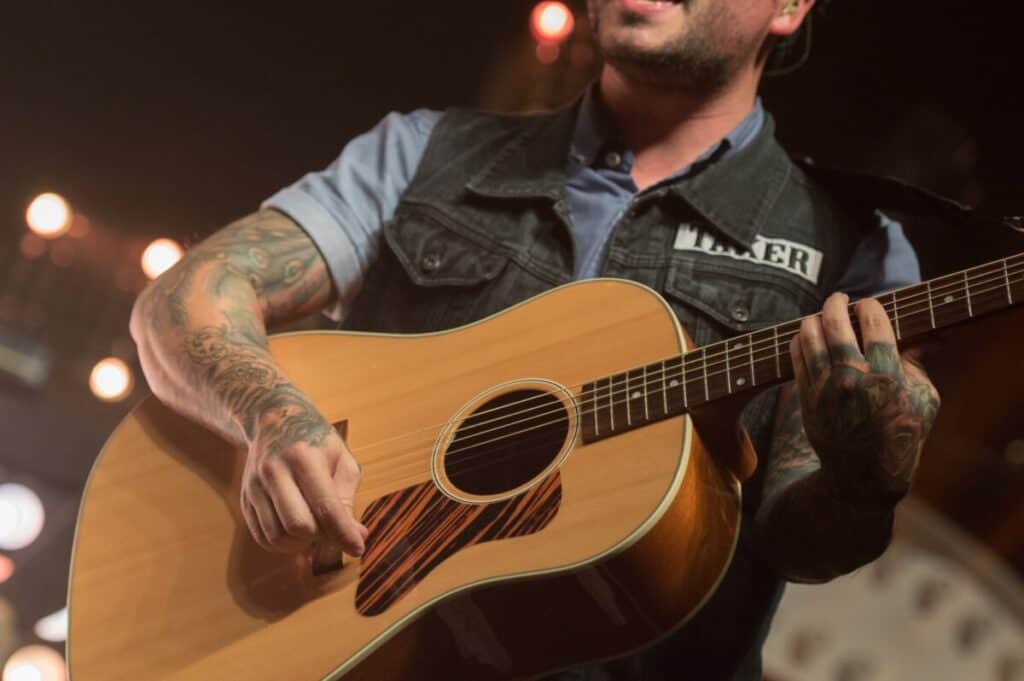 There's something magical about an acoustic guitar. While an electric guitar usually needs a full band to be truly captivating, an acoustic guitar can steal the show even if it's played all by itself – as long as the player is a true master. These kinds of masterful players are the ones we'll be looking at in this post. These 60 best acoustic guitarists are masters of the instrument, with much to teach any fellow musician or music lover.
With so much talent in one place, how does one decide on ranking? Well – I've always been a bit skeptical about ranking the "best" music or musicians to be honest. So even though there are 60 different guitarists on this list, please understand that this list goes in no particular order.
To get a feel for each guitarist's style, I've included a sample of their music from YouTube. But if you really want to enjoy the full catalogue of their music, I recommend listening to their body of work with Amazon Music Unlimited. With Amazon Music's free trial, you get access to over 60 million songs completely free – and you can listen anytime, anywhere. You can check it out here (link to Amazon).
Now without further ado, let's discover the 60 best acoustic guitarists of all time.
Doc Watson
Doc Watson is not only a masterful flatpicker, but an incredible fingerpicker as well. And the kicker: he was also blind, making his guitar mastery that much more impressive. Doc actually started out on the electric guitar before moving into bluegrass, folk and appalachian music, which are the genres he's now famous for. He frequently played with his son, Merle, a talented musician in his own right.
Norman Blake
Norman Blake is an amazing flatpicker, but he's also probably my favorite songwriter on this list. Blake has written many of the best bluegrass songs to have emerged from the past century, classics like "Ginseng Sullivan", "Slow Train through Georgia", "Billy Gray", and "Church Street Blues."
The song above, Hand Me Down My Walking Cane, blurs the lines between folk, blues, and bluegrass. In Norman Blake's version, he imparts a lot of bluegrass flavor to this old tune that dates all the way back to 1800s.
Clarence White
In addition to inspiring a host of today's finest bluegrass guitar players, Clarence White is one of the main influences of Tony Rice. If you listen to the two bluegrass masters, you can clearly hear the influence. White employs fantastic crosspicking and an excellent use of melody to form complex but memorable bluegrass leads.
Bryan Sutton
While he's most well known as a bluegrass flatpicking master on the acoustic guitar, Bryan Sutton also plays the mandolin, banjo, ukulele, and electric guitar. Influenced primarily by Clarence White and Tony Rice, Sutton has done everything from working as a Nashville session guitarist to playing in some of the best bluegrass bands on the scene.
Bryan is also passionate about teaching his craft to other guitarists. With Bryan Suttons' ArtistWorks bluegrass guitar course you get access to one of the very best bluegrass guitarists ever, as he walks you through his playing step by step.
This is my #1 recommendation if you really want to cut your learning curve and become great at playing bluegrass guitar.
You can read more about Bryan's excellent course here.
Billy Strings
Billy Strings is one of the young up and comers of the bluegrass flatpicking guitar world. But make no mistake – he has the talent to roll and play with the best of them. Billy has a unique, fast-paced style that is an amalgam of many of the bluegrass greats named elsewhere on this list. In particular, key influences for him were Doc Watson and Tony Rice.
Tony Rice
If you don't play acoustic guitar yourself, or aren't a bluegrass music fan, you may not have heard of Tony Rice. That's one reason I feel I have to mention him – his incredible acoustic guitar playing is somehow still relatively ignored outside of guitarists' circles.
In Church Street Blues (on Amazon), Tony's mastery of the acoustic guitar is really in the spotlight. He's a great singer, and the songs he chose are excellent, but after listening to this album so many times, it's still the guitar playing that continues to shine through and inspire me.
Church Street Blues, One More Night and Orphan Annie are some of my favorites from this album – if you're unfamiliar with Tony, you owe it to yourself to at least give those songs a listen and soak in some awesome acoustic guitar playing.
If you want a deeper look at Tony's music, check out my guides to his 5 best albums or his 8 best songs.
Dan Tyminski
Dan Tyminski's singing and guitar playing on the classic "Man of Constant Sorrow" brought bluegrass music to a much wider audience when the song was featured prominently in the classic movie O Brother Where Art Thou?, starring George Clooney. Tyminski is one of my favorite singers and players in the "newer wave" of bluegrass music, with great albums like Wheels and Carry Me Across the Mountain.
Ron Block
Ron Block has accompanied Dan Tyminski and many other premier bluegrass musicians. The video above gives a great in depth look at both players' approach to bluegrass rhythm guitar. Block has very clean flatpicking technique and an excellent voice. My favorite song of his is his interpretation of the gospel classic "Be Assured," from his Doorway album.
Jimmy Martin
Having influenced everyone from Tony Rice, to Doc Watson, to Dan Tyminski, it would be a sin to leave Jimmy Martin out of this list. With his high-driving rhythm playing, Jimmy was one of the original bluegrass guitar heroes.
David Grier
David Grier is one of the most accomplished flatpicker guitarists playing today. Grier was immensely influenced by Bill Monroe, and moved to Nashville in the mid 80s to begin touring and recording. He has formed his own record label and started many bluegrass bands throughout his many years of playing the instrument.
Molly Tuttle
Molly Tuttle is a talented guitarist and songwriter deeply rooted in the bluegrass tradition. She waswas the first woman to win the International Bluegrass Music Association's Guitar Player of the Year award – both in 2017 and then again in 2018. She's also been named the Americana Music Association's Instrumentalist of the Year.
Bill Monroe
Bill Monroe wrote some of the biggest classics in the bluegrass genre – songs like Blue Moon of Kentucky, Jerusalem's Ridge, etc. He played both the mandolin and the acoustic guitar. Bill Monroe was one of the driving forces behind bringing bluegrass to a much larger audience. He had a profound interest on players like Tony Rice and Ricky Skaggs.
Chris Eldridge
Chris Eldridge, sometimes called "Critter" – is one of the best bluegrass players of the newer generation. He's played with the Punch Brothers, Julian Lage, and many others. He also helped found the bluegrass band The Infamous Stringdusters.
Julian Lage
Julian Lage often plays with Chris Eldridge as a duo. Lage was a child prodigy on the guitar, and performed at the 2000 Grammy Awards at the young age of 12. Today, he plays across several genres, including jazz, but the bluegrass work he's done with Chris Eldridge shows his mastery of the bluegrass flatpicking canon.
Andy Falco
Andy Falco plays in the Infamous Stringdusters, a "newgrass" (newer generation bluegrass) jam band that won a 2018 grammy for best bluegrass album. Falco specializes in bluegrass and American Roots music.
Tim Stafford
Tim stafford started playing guitar in the 70s, eventually playing with Alison Krauss & Union Station, before forming the bluegrass band Blue Highway. Stafford is a prolific songwriter, with over 250 songs recorded. He is also one of the most academically accomplished bluegrass players, having taught courses on the subject at several different universities.
Dan Crary
Crary is a skilled bluegrass flatpicker, usually playing solo or in recordings with other pickers. Like Stafford above, Crary actually has an academic background, and is a Speech Communications professor at California State University in Fullerton.
George Shuffler
George Shuffler was one of the earliest guitarist's to develop a proficiency in crosspicking – a form of picking and rhythm playing unique to the bluegrass style. Shuffler is in The Bluegrass Hall of Fame, and even played with the legendary Stanley Brothers.
Larry Sparks
Larry Sparks is a master of bluegrass music and gospel music – two musical traditions that often intermix with each other. In addition to his skill on the guitar, Sparks is one of the most talent vocalists in bluegrass. He won the International Bluegrass Music Association's Male Vocalist of the Year Award in both 2004 and 2005.
Jordan Tice
Jordan Tice is a versatile guitarist and prolific composer of some of the most thoughtful and well-crafted tunes of his generation. He is a skilled flat picker, fingerpicker, and singer-songwriter.
Josh Williams
Josh Williams has played with bluegrass greats like Rhonda Vincent, and now shares his flatpicking skills with the world through his group the Josh Williams Band. He was profoundly influenced by Tony Rice, and country legend Keith Whitley.
Ricky Skaggs
Ricky Skaggs is typically thought of more as a singer and performer than a guitarist. But he is a talented multi-instrumentalist, proficient on both the mandolin and the guitar. Skaggs wrote some of the biggest hits in country and bluegrass music, songs like Highway 40 Blues.
Russ Barenberg
Russ Barenberg is an American bluegrass flatpicking guitarist. Like many others on this list, Barenberg's own style was heavily influenced by players like Clarence White. He is one of the most melodic instrumentalists and composers playing today, and has been nominated for a grammy award.
Jerry Douglas
Technically, Jerry Douglas is a dobro player. But I still felt he deserved including on this list of bluegrass guitar masters. Douglas has played with legends like Tony Rice, Tommy Emmanuel, and many others, and his dobro playing is featured in many of the most popular bluegrass songs ever made.
Wyatt Rice
Wyatt Rice is the brother of legendary guitarist Tony Rice. But while Tony's strongest skills are certainly in the lead playing department, Wyatt has distinguished himself as a master of rhythm guitar. In addition to his work with his brother Tony, Wyatt has released several solo albums of his own.
Tommy Emmanuel
You may not associate Tommy Emmanuel with bluegrass music – even if it's only because his fingerstyle playing is so incredible as to overshadow his flatpicking slightly. But he's done a number of songs and performances in this style – certainly enough to demonstrate his profound skill in the genre, even if it's not his most well known.
Peter Rowan
Peter Rowan was at one point a guitarist and singer in Bill Monroe's band. He also played and sang in the classic bluegrass group Old and In The Way – which famously featured the Grateful Dead's Jerry Garcia on banjo. Today, his record group Rebel Records features his own music and much more in the bluegrass and roots tradition.
Jerry Garcia
Jerry Garcia is most well known as the frontman of the legendary jam band the Grateful Dead. But what's less known is that Garcia got his start in the bluegrass tradition, playing banjo for Old & In the Way. Later, Garcia returned to his fondness for the bluegrass flatpicking style, releasing The Pizza Tapes, which featured him playing with longtime friend David Grisman and bluegrass legend Tony Rice.
Tim O'Brien
Tim O'Brien is an American country and bluegrass musician. In addition to singing, he plays guitar, fiddle, mandolin, banjo, bouzouki and mandocello. O'Brien's flavor of bluegrass has heavy Irish and Scottish roots. He played with the legendary bluegrass band Hot Rize as well as playing duets with his sister Molly.
Adam Aijala
Adam Aijala is the guitarist for the Yonder Mountain String Band – one of the best new bluegrass bands on the scene. The group calls themselves a "progressive bluegrass group" and they've released 5 studio albums so far, while doing many live performances and tours as well.
Willie Nelson
The country western icon is not often praised for his guitar playing, but Willie Nelson regularly blends jazz and blues into his country songs for a delightful mix of genres that few other fingerstyle guitar players can pull off successfully.
Tommy Emmanuel
Tommy Emmanuel is one of the best fingerstyle players to ever live, but what may be even more impressive are his composing skills. Though most of his songs feature just Emmanuel and his guitar, they are extremely captivating and moving, showing off the emotional depth that is possible with this style of guitar playing.
John Butler
Known for his percussive style and his frequent use of a 12 string acoustic, John Butler and his John Butler Trio have one of the most unique acoustic sounds on the scene today. His song Ocean is one of the most famous acoustic guitar instrumental songs of all time – just watch the video above to see and hear why!
John Mayer
John Mayer is one of the most versatile guitarists in mainstream music – able to play catchy pop riffs, blazing blues guitar solos, Grateful Dead covers ala Dead & Company, and of course, rhythmic fingerstyle guitar. His song "Why Georgia" is perhaps his best known songs featuring Mayer's fingerstyle acoustic guitar playing.
James Taylor
Anyone who's tried to cover James Taylor's fingerpicking songs on the acoustic knows how hard his individual style is to emulate. James Taylor makes prominent use of hammer ons, pull offs, walk ups and walk downs, and other advanced techniques, blending in perfectly with his melodic fingerstyle guitar playing.
Chet Atkins
Chet Atkins was one of the first players to bring fingerstyle playing to the electric guitar. He was instrumental in bringing fingerstyle and fingerpicking guitar to a much wider audience and influencing many younger players that would later come on the music scene.
Jerry Reed
Jerry Reed was a transformational player in the country and bluegrass genre, probably best known for his song "East Bound and Down." Many don't know that Reed was a skilled fingerstyle player as well, as you can hear in the song above.
Pat Metheny
Pat Metheny is known as a skilled fusion and jazz player – mostly on the electric guitar. But he's also an incredible composer and fingerstyle player. One of his acoustic albums where you can really hear this side of his playing is "A Map of the World" – the title track is featured above.
Eric Clapton
Eric Clapton is most well known for his blazing electric blues and rock guitar playing. However, his Unplugged album shows off his skills with fingerstyle playing on the acoustic guitar. Check it out to see a more mellow soulful side of Clapton's playing.
Mississippi John Hurt
Speaking of Clapton, it'd be a huge mistake not to throw in some of the old school acoustic blues players here – and Mississippi John Hurt is easily one of the most influential, with songs like Spike Driver Blues, Lay Me Down a Pallet (On Your Floor), You Gotta Walk That Lonesome Valley, etc. He was known for his huge thumb, which created a thundering downstroke in his fingerpicking.
Andy McKee
Andy McKee is another acoustic guitarist, who like John Butler, makes heavy use of percussive techniques and 12 string guitars. Tommy Emmanuel had a big influence on Andy McKee – and McKee was actually the first artist to be signed CGP Sounds, the record label founded by Emmanuel himself.
Paul Simon
Paul Simon was half of the powerhouse duo Simon & Garfunkel. You can hear his fingerstyle acoustic guitar playing on many of the beautiful songs that Simon wrote the lyrics for, such as April Come She Will (featured above).
Merle Travis
Merle Travis has to be included on this list, as he even has his own style of fingerpicking named after him! Travis picking is one of the most popular fingerstyle approaches used on the acoustic guitar to this day. You can see Merle using this style in the video clip above.
Michael Hedges
Michael Hedges is known for the creative innovation that he brought to his music, and to his fingerstyle approach in particular. He was a one of a kind acoustic guitarist – truly a genius in both performing and composing on the instrument.
Mark Knopfler
Mark Knopfler was the lead guitarist of the classic rock group Dire Straits. Few people know, however, that many of Knopfler's most incredible solos and riffs for the group were actually played using his bare fingers. Using fingerpicking on an electric stratocaster is one of the many things gave Knopfler his characteristic sound on the instrument.
Joe Pass
Joe Pass was one of Jazz guitar's greatest innovators. One thing that helped him achieve this was his use of fingerstyle playing. In Jazz, many guitarists opt to use heavy picks. Pass was one of the few players who opted for fingerpicking instead.
Don Ross
Don Ross is a fingerstyle guitarist from Canada. He is the only person to win the National Fingerstyle Guitar Championship twice (once in 1988 and then again in 1996). His album "Huron Street" even reached the top ten on the Billboard New-age chart.
Antoine Dufour
Antoine Dufour is a French-Canadian acoustic guitarist currently signed to CandyRat Records. Dufour started playing guitar at the age of fifteen. He went on to study at the CEGEP in Joliette, where he listened to the music of Leo Kottke, Don Ross, and Michael Hedges at the behest of his teacher.
Sungha Jung
Sungha Jung may be the most "YouTube famous" guitarist on this list. The 21-year-old is a real guitar virtuoso, incorporating elements of many famous fingerstyle guitarists. He's uploaded more than 1,000 YouTube videos, many of which have millions of views. From a young age, he played with master guitarists and songwriters such as Trace Bundy, Tommy Emmanuel, and Jason Mraz.
Sergio Altamura
Sergio creates with the acoustic guitar what perhaps no other fingerstyle guitarist is capable of – he is a true master of incorporating percussive rhythm into his fingerstyle playing. Throughout the course of a song, he adds layer after layer with a looping pedal, magically bringing each composition to life. This makes so many of his tracks beautifully haunting and impossible to ignore.
Eric Johnson
Eric Johnson is most famous for his incredible instrumental song "Cliffs of Dover." He's not often thought of as a fingerstyle player, but if you listen to his instrumental albums in full, there is always a small dose of fingerstyle acoustic guitar performed by Eric himself. Furthermore, many of his solos on the electric guitar still make use of fingerstyle playing, like his live intro to Cliffs of Dover above.
Pierre Bensusan
A French-Algerian guitarist famous for his use of DADGAD tuning in a dazzling display of modern fingerstyle guitar. While his playing throughout his career has spanned a variety of formats, his recent solo acoustic playing has won awards and made it's way into multiple soundtracks.
Ed Gerhard
Ed Gerhard is an exceptional fingerstyle player, and a master across the steel string acoustic, dobro, and weissenborn. It's rare to find such an accomplished multi-instrumentalist.
Jon Gomm
Gomm blends many complicated techniques: harmonics, over-the-neck fretboard work, percussive slapping, singing, AND using tuners to change note values mid-riff…and manages to make it sounds like a compelling song.
Calum Graham
Calum is a young player coming out of Canada who has already gotten the attention of the fingerstyle community with tunes like "Tabula Rasa."  He's already had the chance to work with movie soundtracks, the Olympics, and famous guitarists on this list like Antoine Dufour.
Phil Keaggy
Keaggy's contributions to solo acoustic guitar, including the use of loopers, e-Bows, and avante garde technology, are often overlooked due to his pre-YouTube aesthetic and off-the-grid personality.
Thomas Leeb
Thomas Leeb is an Austrian-born guitarist, now living in California, who takes percussive acoustic guitar playing to the next level.  Check out his album, "Desert Pirate", and specifically his rendition of "No Woman No Cry" to put yourself on that fine line between inspiration and jealousy.
Adrian Legg
Adrian Legg spent a number of years as a guitar technician, wrote for guitar publications, helped design and launch acoustic guitar amps, but now is largely known as a genre-bending, technically acute composer and performer.
Martin Taylor
Martin Taylor is a British jazz musician who has had a long career working both solo and with groups. His early playing was with Stéphane Grappelli doing gypsy jazz. His most recent work has been in solo/small ensemble fingerstyle guitar, like on his duet album with Tommy Emmanuel.
Ready to Get Better at Guitar, Faster?
Whenever you're ready to take your guitar playing to the next level, check out a few of my favorite resources below:
The Best Acoustic Guitar Strings – A unique polymer coating makes these guitar strings last for months or even years at a time, making for an exceptional value. They provide the perfect mix of boom, range, twang, and brightness that acoustic music is known for. — CLICK HERE TO LEARN MORE
The Best Acoustic Guitar – Beloved by everyone from Paul Simon to Gordon Lightfoot, the Martin D-18 is one of Martin's most legendary guitars ever… It's an excellent, premier quality acoustic guitar for bluegrass, country, folk, rock and more. This is also what I play myself — CLICK HERE TO LEARN MORE
Chords, Tabs & Video Lessons for 100 Epic Songs – This free guide that I created for fellow guitarists gives you chords, tabs, and video lessons for the 100 best songs to learn on guitar… I spent many hours putting this guide together to help you get better at guitar, faster. — CLICK HERE TO GET IT FREE
Fingerpicking vs Flatpicking Guitar – Learn which picking style is right for YOU by exploring examples, history, and popular players of each style. Discover essential techniques and pros and cons of each approach. — CLICK HERE TO GET IT FREE