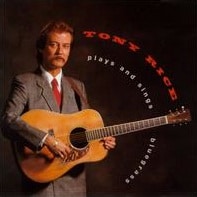 Tony Rice passed away this last Christmas: December 25, 2020. Tony was one of the greatest acoustic guitarists of all time, and particularly revered in the bluegrass world.
As a small tribute to him, I'm going to be releasing a series of blogs on all my favorite Tony Rice things: his albums, his songs, his solos. In this article we'll be looking at Tony's best songs. I also wrote a post recently on Tony Rice's best albums.
Some of Tony's most popular songs are covers of his favorite artists – people like Gordon Lightfoot, Bob Dylan, or Norman Blake. That said, Tony wrote some of his own music that I think flies under the radar. I'll highlight a couple of songs that he wrote himself, as well as some of his best covers.
Please note: this list is in no particular order, and Tony has plenty of amazing songs that aren't covered here. These are just some of my favorites.
How to Listen to Tony Rice for Free
Before we get started, I thought I'd let you know my favorite way to listen to music currently. I love using Amazon Music Unlimited, as you can stream thousands of songs from your favorite artists. Also, they're running a free trial right now, so you can stream hours of awesome music absolutely free! Check it out here.
Church Street Blues
Church Street Blues was written by Norman Blake, but Tony's version is a favorite among bluegrass guitarists, and one of the songs that made me fall in love with this genre of music. While Norman's version is perhaps more "melodic" Tony's cover above features faster and more complicated flatpicking and crosspicking patterns.
Freeborn Man
This song was originally written by The Outlaws, but Tony's playing on it was what put the song on my radar. It features an incredible solo from Tony, and the live version above has an all-star cast holding down the rest of the band – with Bela Fleck on banjo, Sam Bush on Mandolin, and Jerry Douglas on Dobro, and Mark O'Connor on fiddle.
Whisper My Name
One of Tony's favorite artists to listen to and cover was Gordon Lightfoot. Tony's version of this great Gordon Lightfoot song highlights its mystical feeling, and of course, features great acoustic guitar playing.
Fare Thee Well
Another artist Tony frequently covered was Bob Dylan. This song Fare Thee Well is from Tony's Cold on the Shoulder album. Tony Rice is at the top of his game here. The song also features great flatpicking, fiddle, mandolin, banjo…the works. Plus with the back up stars he has on this album, this has to be a pure delight.
New River Train
One of Tony's best albums are the "Blake & Rice" series he released with Norman Blake. In it, these two guitar masters team up on some traditional and bluegrass favorites, showcasing incredible guitar licks all along the way. New River Train is one of my favorites from the album. You get to hear Tony and Norman switch off, taking turns on vocals and lead guitar breaks.
John Wilkes Booth
The "Night Flyer: Singer Songwriter Collection" album features tunes that Tony wrote himself. Though Tony is not really thought of as a song writer, there are some really amazing songs on this record. John Wilkes Booth is one of my favorites – a storytelling style song about the man who killed Abe Lincoln.
Never Meant to Be
While we're on the topic of songs Tony wrote himself… Never Meant To Be is another classic. It's probably my #1 in terms of Tony's original. A classic heartbreak / love song with stunning instrumental breaks and acoustic guitar playing.
One More Night
Another Bob Dylan cover, this one's from the Church Street Blues album. Dylan released this song on The Nashville Skyline album, but Tony's version is almost unrecognizable compared to the original – yet in a good way. Dylan's version is very casual, while Tony's is much more sentimental and the acoustics are more articulated.
Looking for More Bluegrass Guitar Masters?
I hope you enjoyed my list of the best Tony Rice songs. While no one can replace Tony, there are other amazing bluegrass & flatpicking guitarists out there. If you're looking to discover other great bluegrass guitar talent, I put together a list of my 30 favorite players. I hope you discover something you like on it 🙂
Check out the 30 Best Bluegrass Flatpicking Guitarists of All Time