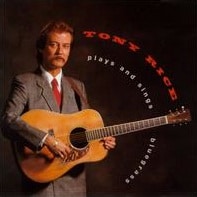 Tony Rice passed away this last Christmas: December 25, 2020. Tony was one of the greatest acoustic guitarists of all time, and particularly revered in the bluegrass world.
As a small tribute to him, I'm going to be releasing a series of blogs on all my favorite Tony Rice things: his albums, his songs, his solos. I published a post last week on Tony Rice's best songs. In this article we'll be looking at Tony's best albums.
Please note: this list is in no particular order, and Tony has plenty of amazing albums that aren't covered here. These are just some of my favorite Tony Rice albums.
How to Listen to Tony Rice for Free
Before we get started, I thought I'd let you know my favorite way to listen to music currently. I love using Amazon Music Unlimited, as you can stream thousands of songs from your favorite artists. Also, they're running a free trial right now, so you can stream hours of awesome music absolutely free! Check it out here.
The Pizza Tapes
Listen to the full album (on Amazon)
I'm partial to The Pizza Tapes album because this is where I first discovered Tony's playing. I was a huge Grateful Dead fan – and always knew that Jerry Garcia had bluegrass roots. The Pizza Tapes seemed like a logical album to learn more about this aspect of Jerry's playing.
If you're unfamiliar with the pizza tapes – it features Jerry Garcia (of Grateful Dead fame), Tony Rice, and David Grisman (mandolin master).
While Jerry's playing on The Pizza Tapes is great, what really blew me away were these crazy licks played by the other guitarist on the album – some guy called Tony Rice. I decided I had to figure out how to learn some of these licks myself, and so began my long, (and still continuing) journey into bluegrass music. But it may never have started without The Pizza Tapes.
Favorite Tracks: Favorite tracks on here include Shady Grove, Long Black Veil, and Rosa Lee McFall.
Church Street Blues
Listen to the full album (on Amazon)
Tony's Church Street Blues album came out in 1983. The title track is a song originally written by Norman Blake – but one of Tony's better known songs, perhaps the most popular on the album. But this is one of those albums that should really be listened to in its entirety.
Favorite Tracks: There are instrumental tracks, but my favorites are the ones Tony sings on. Church Street Blues, Last Thing On My Mind, One More Night, Orphan Annie, Pride of Man, and of course, The Wreck of The Edmund Fitzgerald. Most of the above are covers, but Tony's singing and guitar playing effectively turn them into completely new songs.
Blake & Rice
Listen to the full album (on Amazon)
Speaking of Norman Blake – we must mention the Blake & Rice album. This is a duet between two friends. Well, two friends who are also both master acoustic guitarists. They cover many bluegrass classics, as well as some of Norman's songs. And in typical Tony fashion, there are some Gordon Lightfoot covers as well ("I'm Not Sayin'…")
Favorite Tracks: My favorite tracks on here are I'm Not Sayin, New River Train, and I'm Coming Back But I Don't Know When
Skaggs & Rice
Listen to the full album (on Amazon)
Similar to the Blake & Rice album, Skaggs & Rice is another duet project, this one featuring Ricky Skaggs. However, Skaggs beautiful high voice makes this a completely different kind of album. It also has much more of a gospel flavor than Blake & Rice.
Tony and Ricky's singing complement each other very well, and there are some incredible harmonies going on on the vocal tracks – most of which are highlighted in my favorites below.
Favorite Tracks: Bury Me Beneath the Willow, Where the Soul of Man Never Dies, and There's More Pretty Girls Than One are my favorite tracks from this album.
Tony Rice Plays and Sings Bluegrass
Listen to the full album (on Amazon)
This is a must have album, as I think it has some of Tony's best guitar playing of all the albums on this list. It has the most "traditional bluegrass" songs and feel and solos of all the albums on this list as well. This album features Tony playing and singing many bluegrass favorites with some of the best band members in the world.
Favorite Tracks: My favorites on here are How Mountain Girls Can Love, Will You Be Lovin' Another Man, and This Morning at Nine.
Night Flyer
Listen to the full album (on Amazon)
The "Night Flyer: Singer Songwriter Collection" album features tunes that Tony wrote himself. Though Tony is not really thought of as a song writer, there are some really amazing songs on this record.
John Wilkes Booth is one of my favorites – a storytelling style song about the man who killed Abe Lincoln. Never Meant To Be is another classic. It's probably my #1 in terms of Tony's original. A classic heartbreak / love song with stunning instrumental breaks and acoustic guitar playing.
Favorite Tracks: Me and My Guitar, John Wilkes Booth, Never Meant To Be.
Looking for More Bluegrass Guitar Masters?
I hope you enjoyed my list of the best Tony Rice albums. While no one can replace Tony, there are other amazing bluegrass & flatpicking guitarists out there. If you're looking to discover other great bluegrass guitar talent, I put together a list of my 30 favorite players. I hope you discover something you like on it
Check out the 30 Best Bluegrass Flatpicking Guitarists of All Time