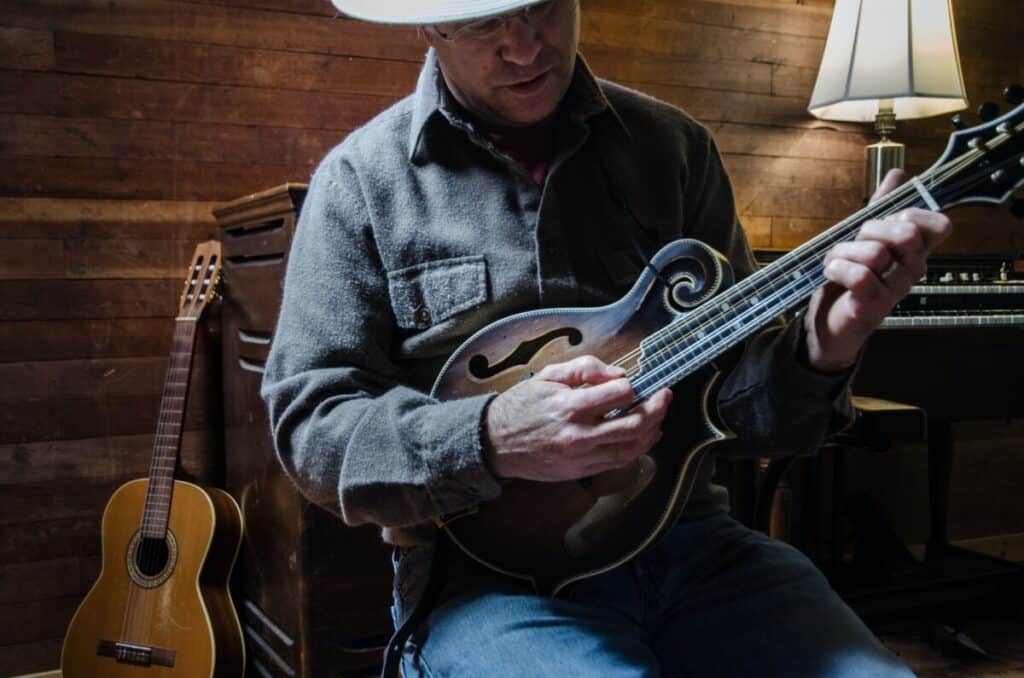 The mandolin has so many incredible players, but many of them remain criminally underrated. For that reason, I thought I'd write a full guide post to give these mandolin players the attention they deserve.
To be honest I've always been a bit skeptical about ranking the "best" music or musicians to be honest. That's why this list is in no partciular order.
To get a feel for each mandolin player's style, I've included a sample of their music from YouTube. But if you really want to enjoy the full catalogue of their music, I recommend listening to their body of work with Amazon Music Unlimited.
With Amazon Music's free trial, you get access to over 60 million songs completely free – and you can listen anytime, anywhere. You can check it out here (link to Amazon).
By the way if you're new to bluegrass music (which features tons of mandolin playing), wondering what it is and how it started, I have a full guide to the origins of bluegrass music.
Now without further ado, let's discover the 12 best mandolin players of all time:
Ricky Skaggs
Rickie Lee Skaggs, known professionally as Ricky Skaggs, is an American neotraditional country and bluegrass singer, musician, producer, and composer.
He primarily plays mandolin; however, he also plays fiddle, guitar, mandocaster, and banjo.
Dan Tyminski
Daniel John Tyminski is an American bluegrass composer, vocalist, and multi-instrumentalist. He is a member of Alison Krauss's band Union Station, and has released three solo albums, Carry Me Across the Mountain (2000), on the Doobie Shea Records label, Wheels (2008), on the Rounder Records label, and Southern Gothic (2017). on the Mercury Records label.[2]
He is known for his updated version of the song "Man of Constant Sorrow," which was featured in the movie O Brother, Where Art Thou? and won the 2001 CMA award for best single as well as a Grammy Award for best Country Collaboration with Vocals
Tyminski is an incredibly accomplished guitarist but equally skilled on the mandolin.
Chris Thile
Christopher Scott Thile is an American mandolinist, singer, songwriter, composer, and radio personality.
Thile is best known for his work in the progressive acoustic trio Nickel Creek and the acoustic folk and progressive bluegrass quintet Punch Brothers.
He is also a 2012 MacArthur Fellow.
Mike Marshall
Mike Marshall is a bluegrass mandolinist who has collaborated with David Grisman, Darol Anger, and other legends. He grew up in Lakeland, Florida.
When he was 18, Mike won Florida state contests on fiddle and mandolin.
Today, Mike is also passionate about teaching others to excel on the mandolin.
In Mike's latest ArtistWorks course, he gives you access to a truly comprehensive video library with hundreds of mandolin lessons covering many musical styles:
Mike's students enjoy unlimited access to:
hundres of mandolin lessons online, at your own pace
Complete tablature
Mp3 play along tracks and jam tracks
So to learn mandolin from one of the best players of all time, I recommend checking out Mike's course here.
Andrew Marlin
Andrew Marlin of WATCHHOUSE (formerly the band MANDOLIN ORANGE) is a multi-instrumentalist, songwriter, performer and producer based in Chapel Hill, NC.
Mandolin Orange, now Watchhouse, is one of the premier bands in the new bluegrass or "newgrass" scene, and features Marlin on mandolin.
David Grisman
David Grisman is an American mandolinist. His music combines bluegrass, folk, and jazz in a genre he calls "Dawg music".
He founded the record label Acoustic Disc, which issues his recordings and those of other acoustic musicians.
Grisman was a lifelong friend of Jerry Garcia, and appears in several Grateful Dead songs. For example, he played the mandolin parts in the band's popular studio version of their song Ripple.
Sam Bush
Charles Samuel Bush is an American mandolinist who is considered an originator of progressive bluegrass music, AKA New Grass or Newgrass.
In 2020, Bush was inducted into the International Bluegrass Music Hall of Fame as a member of New Grass Revival.
He has played with Tony Rice, Mark O'Connor, Bela Fleck, and many other bluegrass and acoustic music legends.
Bill Monroe
William Smith Monroe – or Bill Monroe – was an American mandolinist, singer, and songwriter, who created the bluegrass music genre.
Because of this, Monroe is often called the "Father of Bluegrass".
The genre takes its name from his band, the Blue Grass Boys, who named their group for the bluegrass of Monroe's home state of Kentucky.
Sierra Hull
Sierra Dawn Hull is an American bluegrass singer-songwriter, mandolinist, and guitarist.
Hull was signed to Rounder Records at the age of 13 and released her debut vocal album, Secrets, in 2008 at the age of 16.
Her album peaked at No. 2 on the Billboard Top Bluegrass Albums chart.
Doyle Lawson
Doyle Lawson is an American traditional bluegrass and Southern gospel musician.
He is best known as a mandolin player, vocalist, producer, and leader of the 6-man group Doyle Lawson & Quicksilver.
Lawson was inducted into the International Bluegrass Music Hall of Fame in 2012
Ronnie McCoury
Ronnie McCoury is an American mandolin player, singer, and songwriter.
He is the son of bluegrass musician Del McCoury, and is best known for his work with the Del McCoury Band and the Travelin' McCourys.
Rhonda Vincent
Rhonda Lea Vincent is an American bluegrass singer, songwriter, and multi-instrumentalist.
Vincent's music career began when she was a child in her family's band The Sally Mountain Show, and it has spanned more than four decades
Tim O'Brien
Tim O'Brien is an American country and bluegrass musician. In addition to singing, he plays guitar, fiddle, mandolin, banjo, bouzouki and mandocello.
He is known partly for his role in the popular bluegrass band Hot Rize.