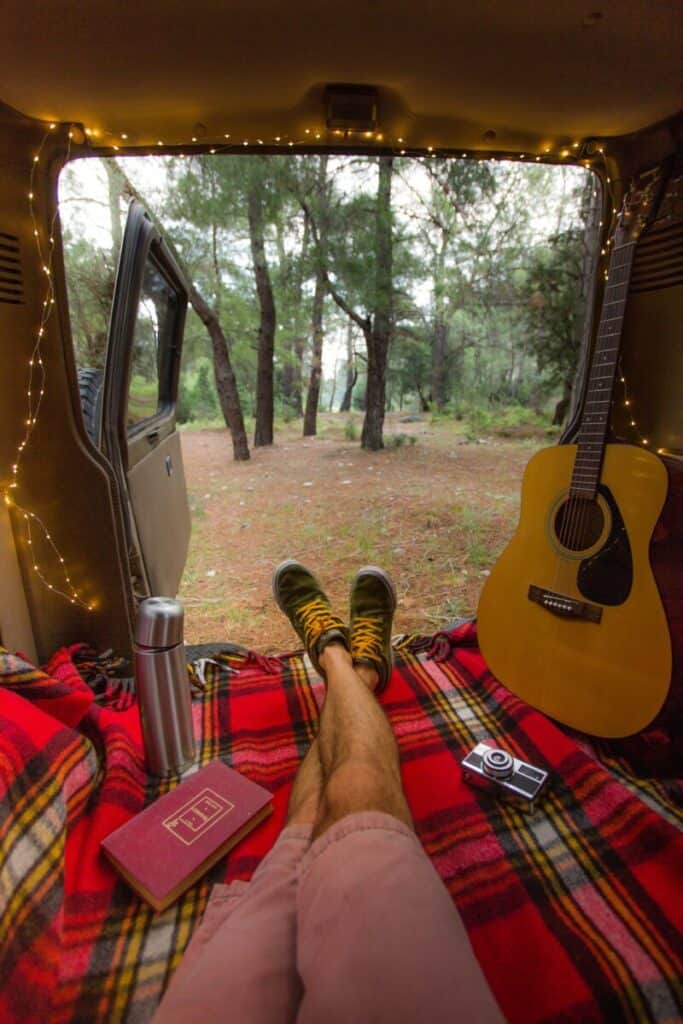 Whether you're a bluegrass musician or just a lover of bluegrass songs, there's so much great music in the world of bluegrass that I wanted to write this list to provide my own favorites. If you're now to the genre of have been listening for a long time, I'm confident you'll find some new tunes and artists to explore from this list.
By the way – if you're interested in acoustic music more broadly, I also wrote a full guide post on the 10 Best Acoustic Guitar Albums of All Time. You can check it out here.
As for this article, to make it easy to sample each bluegrass song, I've included a little sample of it from YouTube. If you like what you hear, and end up wanting to listen to more of that particular album or artist, I really recommend doing so with Amazon Music Unlimited. With their free trial, you get access to over 60 million songs completely free – and you can listen anytime, anywhere. You can check it out here.
Without further ado, let's jump into the Top 10 Best Bluegrass Songs of All Time!
1. Freeborn Man – Tony Rice / The Outlaws
This song was originally written by the Outlaws, and while it's far from a bluegrass classic, it's a must-listen, especially if you play guitar. Tony Rice's red hot licks in his bluegrass rendition of this classic are what first made me want to get into bluegrass flatpicking – so be careful… this song may just have the same effect on you!
2. Nine Pound Hammer
Like many bluegrass classics, Nine Pound Hammer was made famous by none other than Bill Monroe. Today, everyone from John Prine to Bryan Sutton has covered the song, making it a must know for any bluegrass aficionado.
3. Hand Me Down My Walking Cane
Hand Me Down My Walking Cane blurs the lines between folk, blues, and bluegrass. However, it's a mainstay on this list because of it's prominence in the bluegrass genre. My favorite version (embedded above) is Norman Blake's, as he imparts a lot of bluegrass flavor to this old tune that dates all the way back to 1800s.
4. Uncle Pen
Uncle Pen is another Bill Monroe classic, but today the most popular version is likely Ricky Skaggs'. Ricky Skaggs has done a lot of good work in getting bluegrass music to a more populous and diverse audience, and Uncle Pen has always been a crowd favorite with its upbeat rhythm and lyrics, its fast pace, and the overall catchy-ness of the song. What's not to like?
5. Mountain Dew
The Stanley Brothers are one of the most famous musical duos in bluegrass history, combining great unique singing voices with innovative bluegrass guitar. Mountain Dew is likely about alcohol (not the soda, as the name might imply) and features some very funny lyrics as well.
6. Molly and Tenbrooks
Another Bill Monroe classic, Molly and Tenbrooks tells the tale of a race horse. Other popular versions of the song were done by The Stanley Brothers, and the Bluegrass Album Band (featuring Tony Rice, among other bluegrass powerhouse players).
7. Man of Constant Sorrow
Man of Constant Sorrow brought bluegrass music to a much wider audience when it was included prominently in the classic movie O Brother Where Art Thou?, starring George Clooney. This popular version of the song is sung by Dan Tyminsky, one of my favorite singers and players in the "newer wave" of bluegrass music.
8. Choctaw Hayride
Choctaw Hayride is a bluegrass instrumental song (the only one on this list, surprisingly) performed by Alison Krauss and Union Station. Since instrumental music tends to be less popular than music with lyrics, the popularity of this song stands as a testament to how amazing it truly is. It really does give you the feeling of riding through the country.
9. Shady Grove
Shady Grove is a traditional Appalachian folk song, with many variants existing in the bluegrass catalogue. Even bluegrass versions/interpretations of Shady Grove differ widely from one another, but the song is a classic nonetheless, with amazing versions from Doc Watson, Jerry Garcia, Tony Rice, etc.
10. Rocky Top
"Rocky Top" is an American country and bluegrass song written by Felice and Boudleaux Bryant in 1967. Today though, the version by the Osborne Brothers continues to be extremely popular. Written about a small town in Tennessee, the song is a bluegrass classic that evokes a special place in time.
How to Listen to Unlimited Bluegrass Music for FREE
If you want to listen to these albums in their entirety, I really recommend doing so with Amazon Music Unlimited. If you simply sign up for their free trial, you get access to over 60 million songs completely free – and you can listen anytime, anywhere. It's a great way to enjoy some awesome acoustic music. You can check out the free trial here.
If you're a bluegrass guitarist, you may also enjoy checking out my Top 3 Recommended Bluegrass Guitars. I reveal the absolute best of the best to give you that same sound you hear on bluegrass guitar classics like the songs listed above.
Ready to Get Better at Guitar, Faster?
Whenever you're ready to take your guitar playing to the next level, check out a few of my favorite resources below:
The Best Acoustic Guitar Strings – A unique polymer coating makes these guitar strings last for months or even years at a time, making for an exceptional value. They provide the perfect mix of boom, range, twang, and brightness that acoustic music is known for. — CLICK HERE TO LEARN MORE
The Best Acoustic Guitar – Beloved by everyone from Paul Simon to Gordon Lightfoot, the Martin D-18 is one of Martin's most legendary guitars ever… It's an excellent, premier quality acoustic guitar for bluegrass, country, folk, rock and more. This is also what I play myself — CLICK HERE TO LEARN MORE
Chords, Tabs & Video Lessons for 100 Epic Songs – This free guide that I created for fellow guitarists gives you chords, tabs, and video lessons for the 100 best songs to learn on guitar… I spent many hours putting this guide together to help you get better at guitar, faster. — CLICK HERE TO GET IT FREE
Fingerpicking vs Flatpicking Guitar – Learn which picking style is right for YOU by exploring examples, history, and popular players of each style. Discover essential techniques and pros and cons of each approach. — CLICK HERE TO GET IT FREE