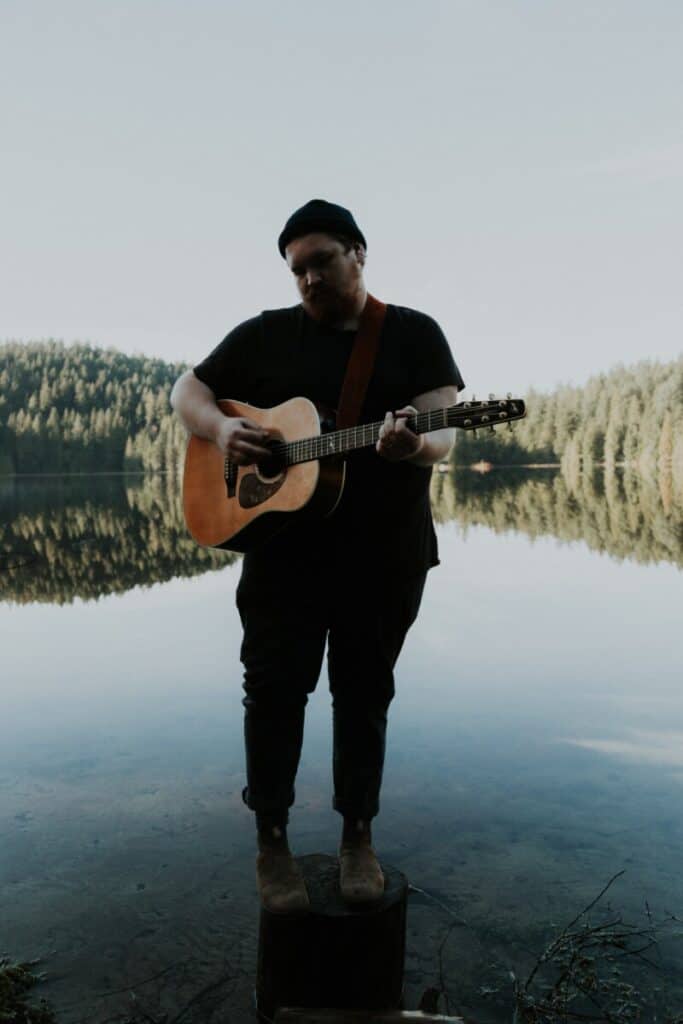 A travel guitar is a guitar with a much smaller frame that makes it ideal for easy travel. In my articles on flying with a guitar and taking a guitar camping, I often recommend people get a travel guitar because of their convenient size.
Another nice feature of travel guitars is that they tend to be very affordable – it's quite rare to see one for more than $500, and at that price point you're getting one of the highest quality builds on the market.
Combining budget, size, functionality, and ease of transport, a travel guitar is a must-have for every guitarists' collection – even if it's just to have in a pinch for your campfire or roadtrip.
But that said: what's the best travel guitar out there? As always, it depends what you're looking for. In the section below I try to give a travel guitar for each occasion: an acoustic-electric, a backpacking guitar, and a smaller-size, but regular-shaped guitar. Check it out below!
1. The Martin LX1E or "Little Martin" (Bag Included)
As you'll know if you've checked out my recommended premium guitars, Martin Guitars are perhaps the most legendary manufacturer of acoustic guitars out there, and my all time favorite brand. The Martin LX1E (on Amazon) or "Little Martin" is the smallest guitar they make, but what it lacks in size it more than makes up for in tone and playability.
The Martin LXIE features a solid sitka spruce top, mahogany back and sides, and a very attractive warm satin finish. It's size and versatility makes it a great budget acoustic guitar for travel, student practice, or jamming out around the campfire. If you get it off Amazon it even includes a travel bag.
Martin LX1E (on Amazon) Standout Specs:
Solid sitka spruce top
Martin quality and craftsmanship
Ideal for travel
Ideal for young guitarists, small hands, etc
The size of this guitar is actually an awesome advantage – it stows perfectly in your trunk or in overhead airplane compartments. It is one of the best guitars for air travel, or frequent travel in general. The shorter scale length also makes it ideal for young guitarists, or those with weak or small hands.
2. Martin Steel String Backpacker Travel Guitar (Bag Included)
If you're looking to go hiking or backpacking with a guitar, Martin also makes a steel string travel guitar specifically for backpacking (on Amazon). Again, this one includes a travel bag for your convenience.
Other Standout features include:
Solid Spruce Top
Solid Tonewood Back and Sides
Unique Contour Neck Shape
24-Inch Scale Length
15 Frets
The Martin Backpacking Guitar (on Amazon) is specifically designed to be light, ergonomical, and backpacking friendly, all while retaining that legendary Martin tone. It's hands down the best guitar for backpacking. The price is amazing on this one – usually coming in at or around $300, which is crazy for a Martin guitar.
3. The Traveler Guitar, 6-String Acoustic-Electric
Looking to pack even more convenience into your travel guitar? Consider opting for The Traveler Guitar (on Amazon) acoustic-electric – because hey, you never know when a Traveler piezo pickup may come in handy.
The Traveler Guitar (on Amazon) also clocks in at only 2lbs and 15oz – talk about light weight! This makes it perfect for lugging around the wilderness, or storing in an airline overhead bin. Again, a complementary travel bag is included with this one.
Other Standout features include:
Full 24 3/4″ Scale
Fits in airline overhead bins
Only 2 lbs. 15 oz!
28″ Long!
One-piece, Eastern American hard Maple neck-through-body design
Traveler piezo pickup with standard 1/4″ Output
Gig Bag included!
Is A Travel Guitar Right for You?
Still wondering whether travel guitars are any good, or worth the money? You're not alone! I wrote a full guide post on exactly that topic! You can check it out here!
Thanks for reading, and as always, happy picking!
Ready to Get Better at Guitar, Faster?
Whenever you're ready to take your guitar playing to the next level, check out a few of my favorite resources below:
The Best Acoustic Guitar Strings – A unique polymer coating makes these guitar strings last for months or even years at a time, making for an exceptional value. They provide the perfect mix of boom, range, twang, and brightness that acoustic music is known for. — CLICK HERE TO LEARN MORE
The Best Acoustic Guitar – Beloved by everyone from Paul Simon to Gordon Lightfoot, the Martin D-18 is one of Martin's most legendary guitars ever… It's an excellent, premier quality acoustic guitar for bluegrass, country, folk, rock and more. This is also what I play myself — CLICK HERE TO LEARN MORE
Chords, Tabs & Video Lessons for 100 Epic Songs – This free guide that I created for fellow guitarists gives you chords, tabs, and video lessons for the 100 best songs to learn on guitar… I spent many hours putting this guide together to help you get better at guitar, faster. — CLICK HERE TO GET IT FREE
Fingerpicking vs Flatpicking Guitar – Learn which picking style is right for YOU by exploring examples, history, and popular players of each style. Discover essential techniques and pros and cons of each approach. — CLICK HERE TO GET IT FREE