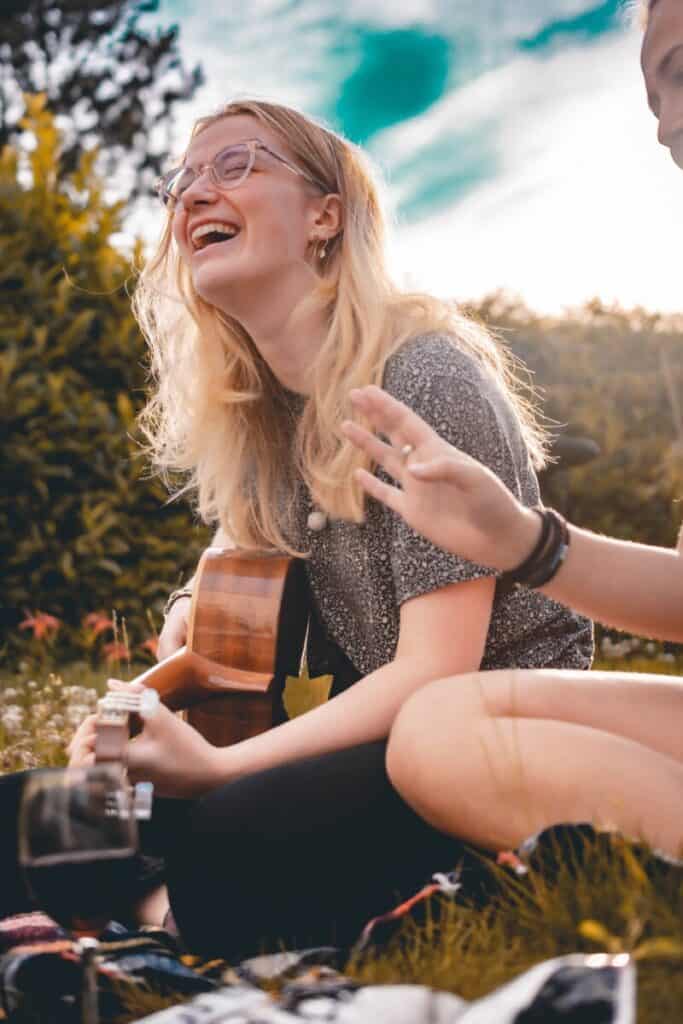 Wondering if a travel guitar is right for you? You're not alone. Because they're a little less common than standard sized guitars, many players wonder whether travel guitars are any good or worth the money compared to a full size instrument.
The truth is that depending on your goals, and what you want out of the instrument, a travel guitar can make an excellent addition to any guitarist's collection. In this article, we'll look at the pros and cons of travel guitars, and answer some other commonly asked questions about them. If you want to see which travel guitars I recommend, head over to my best travel guitars of 2020 guide.
Travel Guitars: Pros and Cons
A travel guitar is a guitar with a much smaller frame: this means its size makes it ideal for easy travel. In my articles on flying with a guitar and taking a guitar camping, I often recommend people get a travel guitar because of their convenient size and light weight.
Another nice feature of travel guitars is that they tend to be very affordable. For example, the Little Martin (on Amazon) can often be scored beneath the $500 mark, and at that price point you're getting one of the highest quality builds on the market. In comparison, full sized Martins like the ones I recommend in my recommended premium acoustics page will often run upwards of $1000, at the very least.
Despite their smaller size, travel guitars also still have a full or near-full scale length. By combining budget, convenient size, functionality, and ease of transport, as well as high quality craftsmanship, travel guitars truly are a bang-for-your-buck instrument.
There are a few cons to a travel guitar, however. For example, they aren't great choices for players with big hands or fingers. And because of their smaller size, they often don't have quite the same tone, sustain, and volume as a normal sized instrument.
Are Travel Guitars Good for Beginners?
One of the hardest things about starting out on the guitars is simply fretting the notes, and playing individual chords. Oftentimes, beginners complain that the neck feels too big or wide. The thinner neck and build of a travel guitar can help out with this, and help keep beginners motivated to keep playing.
Are Travel Guitars Easier to Play?
Not only are travel guitars easier to store and travel with, many guitarists find that they are easier to play. Typically, this results again from the smaller size of the guitar and neck. Many guitarists find that these factors make previously complicated chords a lot easier to play.
Travel Guitars for Small Hands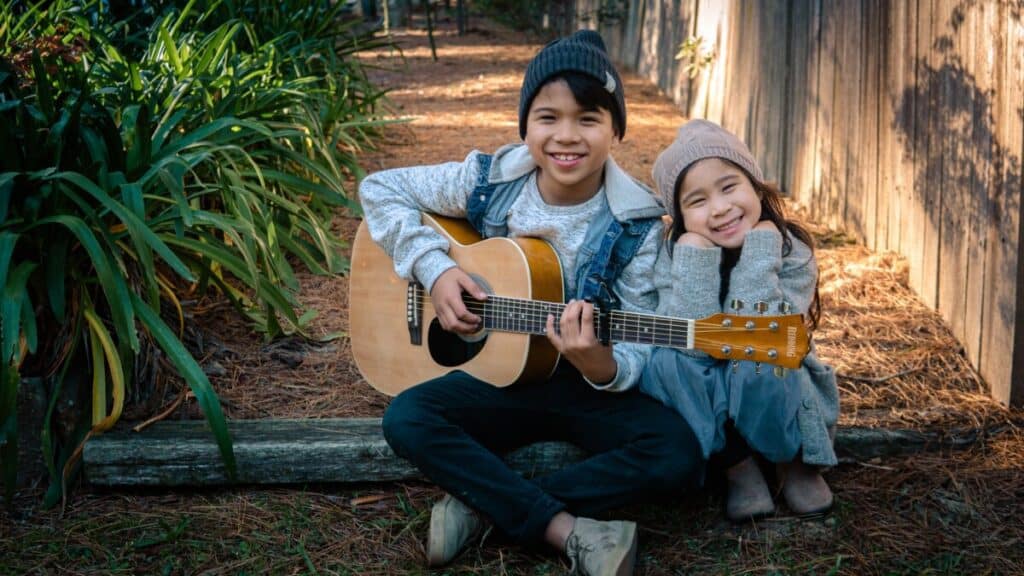 Players with particularly small hands can sometimes feel very frustrated learning on a full sized guitar. Travel guitars are ideal for players with a smaller build, and also a great choice for children.
This is important because the better your guitar suits your individual body, the more comfortable you'll be playing it, and the more likely you'll be to keep playing and learning for years to come!
How to Find the Best Travel Guitars
When it comes to choosing the best travel guitars, there are a lot of things to consider. Portability, playability, tone, quality, of materials, etc. You also have to decide whether you want an acoustic, or an acoustic-electric. There are even travel guitars built specifically for hiking and backpacking.
Luckily, I've done the hard work for you, selecting the best travel guitars from all of the important categories I just outlined above. If you want to see which travel guitars I recommend, head over to my best travel guitars of 2020 guide.
Final Verdict: Are Travel Guitars Good / Worth It?
Most serious guitarists will choose a full size guitar as their main instrument of choice. They simply offer bigger and better tone, volume, sustain, and more.
However, travel guitars have a ton of advantages that make them a must-have for many players. Their smaller size, light weight, and low cost makes them much easier to travel with. For beginners, small children, or players with small hands, a traveler guitar might also be ideal to start out on, as many of these players find travel guitars easier to play.
Ultimately, it comes down to your goals, what you're buying the guitar for, and your individual guitar preferences. If you're set on a travel guitar, I recommend you head over to my best travel guitars of 2020 guide. If you want a premium, full size instrument instead, check out my recommended premium acoustics page.
Not ready for a premium priced instrument? Check out my favorite full-sized, budget-friendly acoustics!
Thanks for reading – and as always, happy picking!
Ready to Get Better at Guitar, Faster?
Whenever you're ready to take your guitar playing to the next level, check out a few of my favorite resources below:
The Best Acoustic Guitar Strings – A unique polymer coating makes these guitar strings last for months or even years at a time, making for an exceptional value. They provide the perfect mix of boom, range, twang, and brightness that acoustic music is known for. — CLICK HERE TO LEARN MORE
The Best Acoustic Guitar – Beloved by everyone from Paul Simon to Gordon Lightfoot, the Martin D-18 is one of Martin's most legendary guitars ever… It's an excellent, premier quality acoustic guitar for bluegrass, country, folk, rock and more. This is also what I play myself — CLICK HERE TO LEARN MORE
Chords, Tabs & Video Lessons for 100 Epic Songs – This free guide that I created for fellow guitarists gives you chords, tabs, and video lessons for the 100 best songs to learn on guitar… I spent many hours putting this guide together to help you get better at guitar, faster. — CLICK HERE TO GET IT FREE
Fingerpicking vs Flatpicking Guitar – Learn which picking style is right for YOU by exploring examples, history, and popular players of each style. Discover essential techniques and pros and cons of each approach. — CLICK HERE TO GET IT FREE