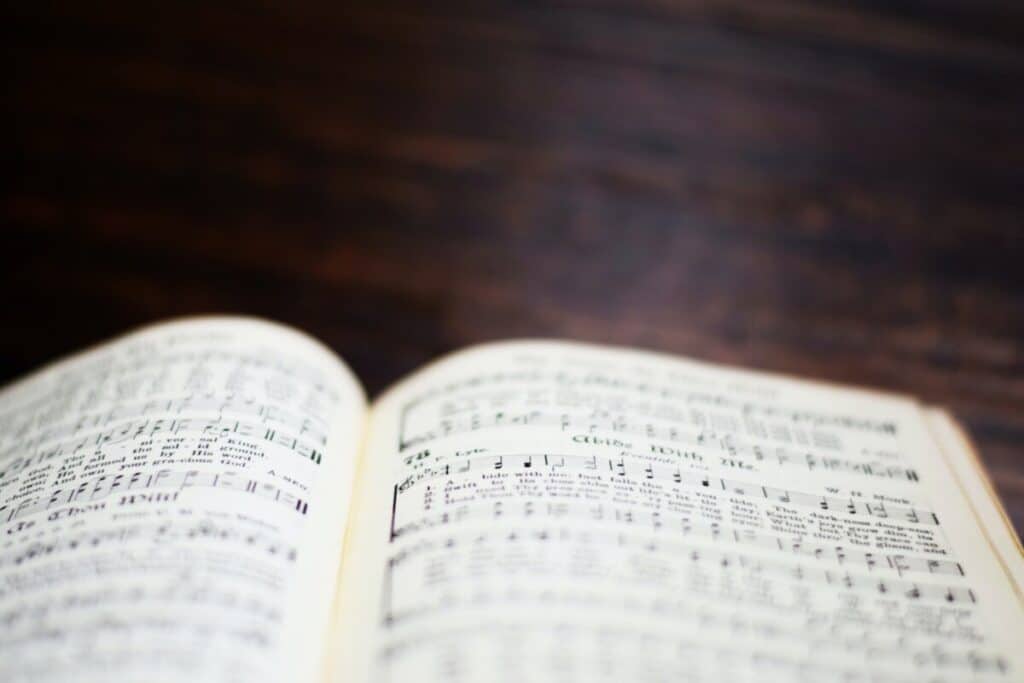 There are so many ways to learn to play the guitar: tabs, chord charts, and yes, reading music. But as a guitarist, do you really need to learn how to read music?
You don't need to learn to read music in order to become a skilled guitar player. However, in order to become proficient in some genres, such as jazz or classical guitar, reading music as a guitarist becomes incredibly useful.
So while you don't absolutely have to learn to read music as a guitar player, there are certain styles of music and situations where reading music has its advantages. We'll look at those in the article below. But first, let's talk about why reading music isn't absolutely necessary for guitarists.
Why Guitarists Don't Need to Know How to Read Music
With so many ways to learn the guitar today, reading music just isn't an absolute necessity like it used to be. If you want to learn the old fashioned way, by reading musical scores in books, then yes, reading music is certainly useful.
But with video lessons on YouTube, and free chord and tab charts all over the internet, there is a wealth of guitar knowledge that doesn't require any formal music-reading ability.
Before learning to read music, see how far you can get and how much you can learn on the guitar without reading any music. You'll probably be surprised at the level of skill you can achieve.
Famous Guitarists Who Couldn't Read Music
Just to prove that guitarists don't need to learn how to read music, I wanted to put together a list of some of the greatest guitarists who couldn't read music either. Take a gander… I bet you'll recognize some names 😉
Robert Johnson
Elvis Presley
The Beatles (yes – all of them)
Eric Clapton
Stevie Ray Vaughn
Eddie Van Halen
Tommy Emmanuel
Slash
Jimi Hendrix
Bob Dylan
Bob Weir
The Case For Reading Music as a Guitarist
I want to be clear: I'm not saying that all guitarists should avoid learning how to read music. That would be ridiculous! And way too broad of a blanket statement.
If you want to learn jazz or classical guitar, or even if you want to be a high level session guitarist, then learning how to read music may be infinitely valuable. For classical guitar, it may be an outright necessity.
If you're interested in learning these styles, perhaps invest the time, money and energy into developing a baseline of skill in reading music. It may end up paying dividends down the road if you have your heart set on these more traditional and classical styles.
How to Learn Guitar Without Reading Music
Wondering how to get started learning the guitar without being able to read music? Don't worry, I have a ton of resources for you!
Check out my guide to the best youtube channels to learn acoustic guitar for free.
PS: Another tip for you – one of the fastest ways to progress on the guitar is by learning as many of your favorite songs as possible. That's why I wrote up a resource on FIFTY acoustic songs that are perfect for beginners. You can check it out here to start learning. Have fun!
Ready to Get Better at Guitar, Faster?
Whenever you're ready to take your guitar playing to the next level, check out a few of my favorite resources below:
The Best Acoustic Guitar Strings – A unique polymer coating makes these guitar strings last for months or even years at a time, making for an exceptional value. They provide the perfect mix of boom, range, twang, and brightness that acoustic music is known for. — CLICK HERE TO LEARN MORE
The Best Acoustic Guitar – Beloved by everyone from Paul Simon to Gordon Lightfoot, the Martin D-18 is one of Martin's most legendary guitars ever… It's an excellent, premier quality acoustic guitar for bluegrass, country, folk, rock and more. This is also what I play myself — CLICK HERE TO LEARN MORE
Chords, Tabs & Video Lessons for 100 Epic Songs – This free guide that I created for fellow guitarists gives you chords, tabs, and video lessons for the 100 best songs to learn on guitar… I spent many hours putting this guide together to help you get better at guitar, faster. — CLICK HERE TO GET IT FREE
Fingerpicking vs Flatpicking Guitar – Learn which picking style is right for YOU by exploring examples, history, and popular players of each style. Discover essential techniques and pros and cons of each approach. — CLICK HERE TO GET IT FREE