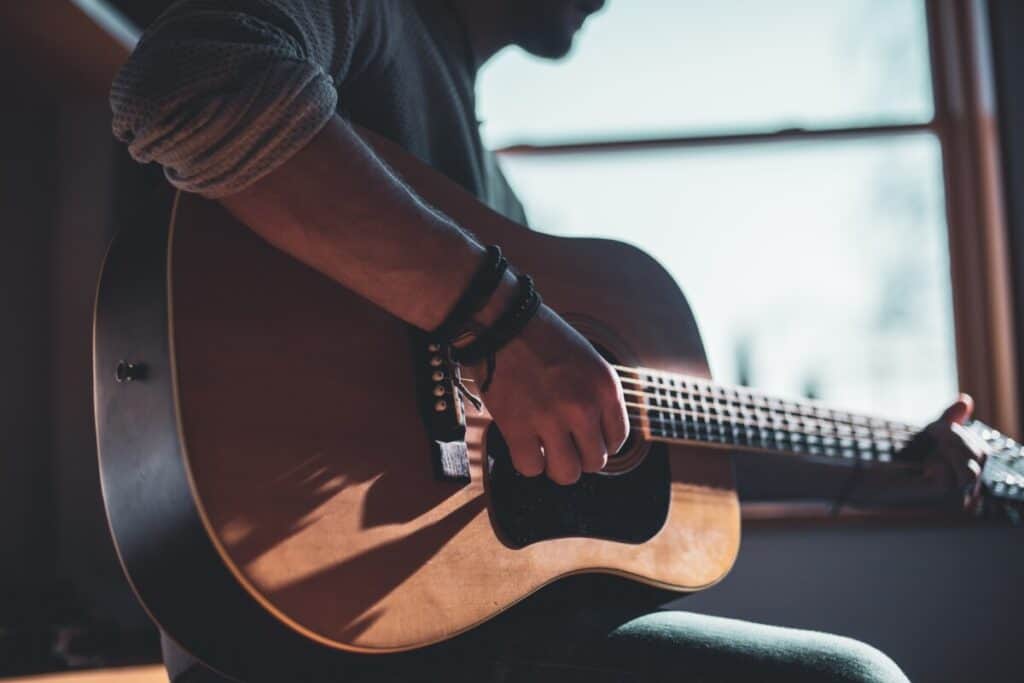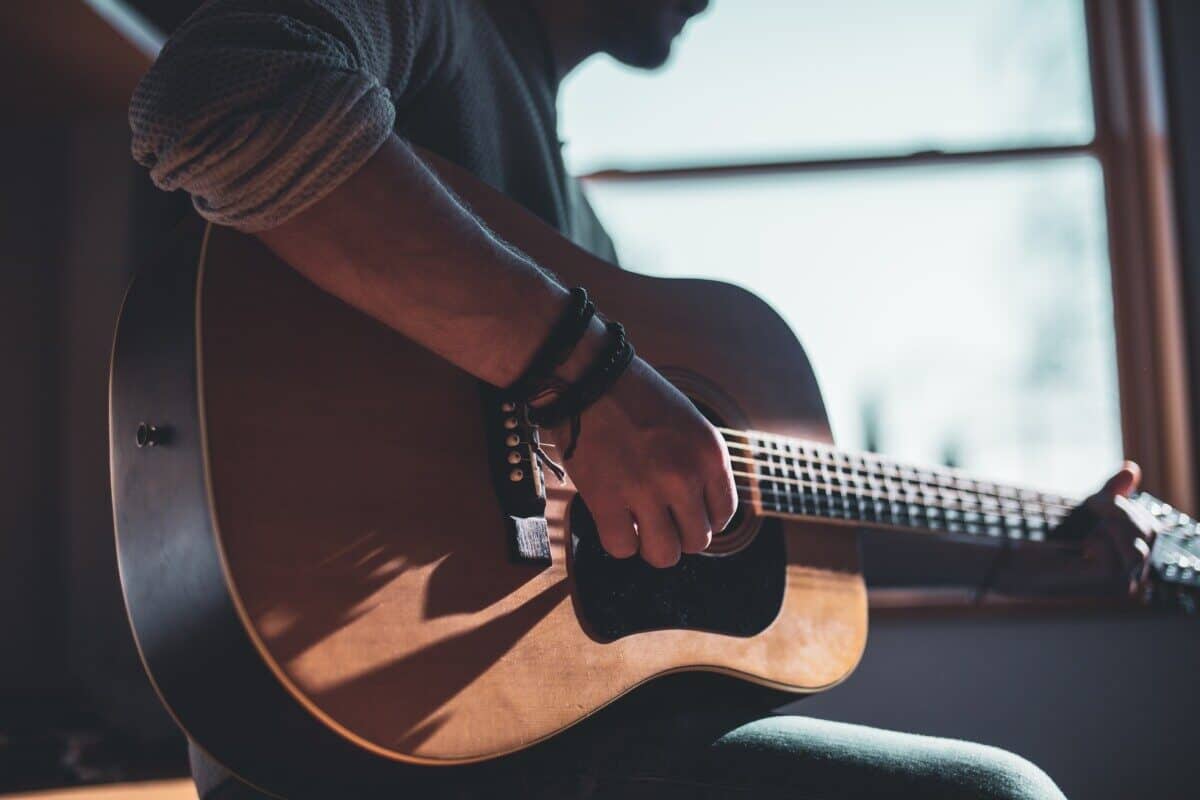 When it comes to free acoustic guitar lessons, YouTube is definitely one of the best places to start learning guitar. The guitar community on YouTube is full of experienced teachers giving away valuable knowledge and guitar lessons for free.
However, with so many channels and videos on YouTube, it can be tough knowing where to start. Who really is putting out good content, as opposed to who's just showing off or trying to make a quick buck?
In this post I'm going to share with you my personal, hand-curated list of YouTube guitar channels who put out the best lesson on learning acoustic guitar. I've personally learned from all of these guitar teachers myself, so I can vouch for their skill and teaching ability, and the value of their content.
Whether you're a beginner guitarist or more advanced, you can learn a lot from the free lessons available today on YouTube. Let's dive right in and start exploring the 8 best YouTube channels for learning acoustic guitar.
1. Marty Music / Marty Schwartz / GuitarJamz
Marty's Youtube Channel: guitarjamz Marty Music
Marty Schwartz probably has the most famous guitar channel on YouTube, and for good reason. Marty's laidback and fun style makes him a pleasure to learn from, and he also just has so much awesome material available on his channel for free.
Here's Marty teaching one of my favorite acoustic songs ever – Ripple by The Grateful Dead:
This list is focused on acoustic guitar channels, but Marty also has a bunch of awesome electric guitar lessons. His channel is awesome if you're new to the guitar, want to learn new chords, or are just beginning to start soloing and looking for some neat licks.
2. Ryan Kimm
Ryan's YouTube Channel
Ryan Kimm has a bunch of awesome acoustic lessons for folk, bluegrass, and acoustic blues. I always like Ryan's videos because he often gives more than one arrangement of the same song. His lessons also go in depth on rhythm playing or lead playing specifically.
Here's Ryan teaching the classic gospel song Amazing Grace:
Ryan also has a bunch of video lessons and courses available on his website, but like many of the channels on this list, the bulk of his information is given out for free on his channel, which is pretty awesome.
Truefire's YouTube Channel
Truefire is actually a digital guitar school or collection of online courses, but their YouTube channel has some of the best free guitar lessons on the internet. The great thing about companies like TrueFire is that they bring in some of the best guitarists ever and get them to teach what they're passionate about playing.
This means their channel is full of hundreds of different professional guitarists, teaching the music that they specialize in, for free. It's pretty amazing. For example, here's an hour-long acoustic guitar course they uploaded absolutely for free:
TrueFire also has a membership site, which gives you access to all their lessons and a bunch of awesome bonus features. You can typically grab a free trial by checking out their site here. They feature both acoustic and electric lessons, and even other instruments besides guitar, like the banjo, which is a nice bonus.
4. Jamplay
JamPlay's YouTube Channel
JamPlay is another awesome digital guitar lesson hub. They feature lessons from hundreds of different guitarist, in all different styles and experience levels. They currently have over 650 guitar lesson for beginners alone on their website!
One of my favorite free lessons on their YouTube channel is a bluegrass webinar that's over an hour long! You can check it out below. It's an introductory course, so perfect for beginners.
JamPlay's membership site gives you access to all their lessons and a bunch of awesome bonus features. You can typically grab a free trial by checking out their site here. They feature both acoustic and electric lessons and have some of the best teacher and guitarists on the internet.
5. Brandon Johnson
Brandon's YouTube Channel
Brandon Johnson has some of the best acoustic lessons on youtube, particularly for learning bluegrass guitar. His lessons range from beginner friendly to quite advanced. I first found Brandon when trying to learn Shady Grove, which has been played by everyone from Jerry Garcia to Doc Watson.
It's still one of my favorite lessons from him, and you can check it out here:
Brandon also has a membership site, but a lot of his material is available for free on YouTube. It's an awesome resource for learning bluegrass acoustic guitar for free.
6. ArtistWorks
ArtistWorks' YouTube Channel
ArtistWorks is an awesome provider of online music lessons. They actually offer online video lessons for over 40 instruments and genres including guitar. Many of their lessons are available for free on YouTube however, and some of their best ones are on the acoustic guitar.
My favorite lesson from ArtistWorks features master flatpicker Bryan Sutton. Here's Bryan teaching you the classic Bluegrass G Run lick:
Bryan is also passionate about teaching his craft to other guitarists. With Bryan Suttons' ArtistWorks bluegrass guitar course you get access to one of the very best bluegrass guitarists ever, as he walks you through his playing step by step.
This is my #1 recommendation if you really want to cut your learning curve and become great at playing bluegrass guitar.
You can read more about Bryan's excellent course here.
7. Eric Beaty Creations
Eric's YouTube Channel
Eric Beaty has been on the YouTube scene for over 5 years, and he's one of the best channels to go to for learning acoustic lead playing. Eric has some amazing licks and lessons up for free on his channel. I still remember learning a bunch of Tony Rice licks from him.
This is one of my favorite Tony Rice style guitar lessons that Eric has put out for free:
Eric also has some heavy metal and shredding videos on his channel, so he provides a unique mix of information. He's one of my favorites to learn bluegrass and acoustic guitar from to this day.
8. Patrik S. Lundgren Official
Patrik's YouTube Channel
Patrik S. Lundgren has some serious flatpicking skills. He puts out all of his videos and lessons for free, which is incredibly generous of him. My favorite thing about Patrik's channel is he even has lessons on some of the more modern acoustic players like Billy Strings.
Here's a lesson on one of Billy Strings' songs that Patrik has up for free on his channel:
He breaks things down nice and slow and plays through sections multiple times. It's a really clear and concise way to teach. His lessons are certainly a bit more advanced but perfect if you're trying to learn more intermediate or advanced bluegrass flatpicking for free on YouTube.
Bonus Channel: Acoustic World!
The Official Acoustic World YouTube Channel
Ok, ok – so I didn't want to include this as one of the top 8 because obviously I'm biased. But I wanted to let you know that I upload a YouTube video every week over on the Acoustic World channel.
Lately the content is focused on acoustic guitar maintenance, common guitarist questions, and tips to improve your playing.
Who's Your Favorite?
Well there you have it folks – my 8 favorite acoustic guitar lesson channels for free on YouTube. Did you see anyone you didn't expect? Who's your favorite out of this list? And do you think I missed anyone?
To recap, the 8 best YouTube channels for free acoustic guitar lessons are:
Marty Music/GuitarJamz
Ryan Kimm
TrueFire
JamPlay
Brandon Johnson
ArtistWorks
Eric Beaty Creations
Patrik S Lundgren Offical
Check out some of those awesome YouTube channels and let me know what you think!
Thanks for reading, and as always, happy picking!
Ready to Get Better at Guitar, Faster?
Whenever you're ready to take your guitar playing to the next level, check out a few of my favorite resources below:
The Best Acoustic Guitar Strings – A unique polymer coating makes these guitar strings last for months or even years at a time, making for an exceptional value. They provide the perfect mix of boom, range, twang, and brightness that acoustic music is known for. — CLICK HERE TO LEARN MORE
The Best Acoustic Guitar – Beloved by everyone from Paul Simon to Gordon Lightfoot, the Martin D-18 is one of Martin's most legendary guitars ever… It's an excellent, premier quality acoustic guitar for bluegrass, country, folk, rock and more. This is also what I play myself — CLICK HERE TO LEARN MORE
Chords, Tabs & Video Lessons for 100 Epic Songs – This free guide that I created for fellow guitarists gives you chords, tabs, and video lessons for the 100 best songs to learn on guitar… I spent many hours putting this guide together to help you get better at guitar, faster. — CLICK HERE TO GET IT FREE
Fingerpicking vs Flatpicking Guitar – Learn which picking style is right for YOU by exploring examples, history, and popular players of each style. Discover essential techniques and pros and cons of each approach. — CLICK HERE TO GET IT FREE