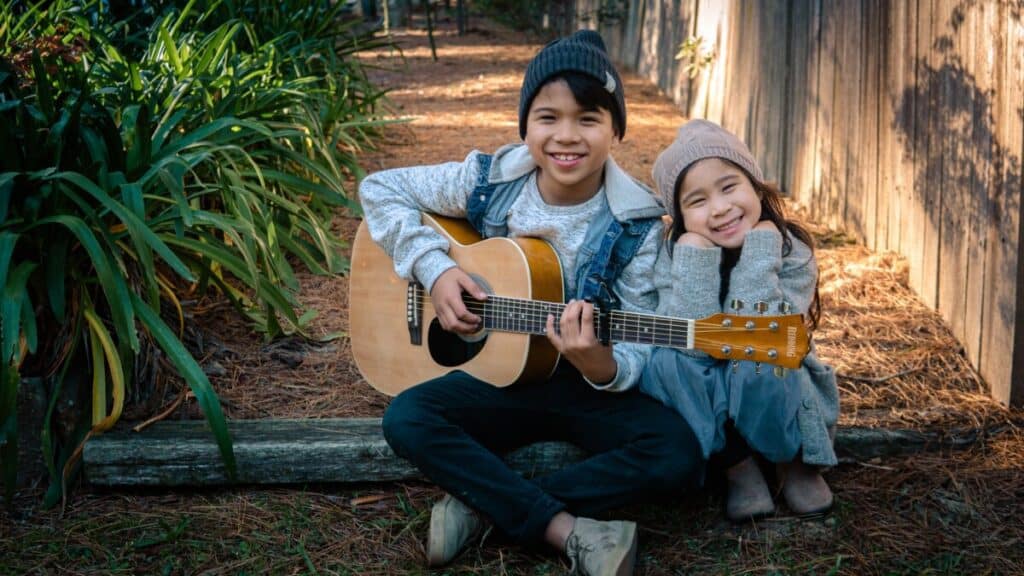 I wanted to put my Top 35 Best Easy Acoustic Songs Tabs all in one place for you guys.
But rather than just listing the songs out and leaving it up to you to find out how to play them, I also decided to link to my favorite chord and tab sources for each song. This way you not only know the best easy acoustic songs, but the best places to learn them and get their full tabs as well.
And I even took things one step further just because I wanted to make the ultimate resource for you guys. That's why wherever possible, I also included my favorite video lesson on YouTube of each song. This way you get an experienced teacher teaching the song to you, one-on-one, for free!
One final note before we get started: don't forget to tune your guitar! These songs won't sound right if your guitar is out of tune… If you need a great tuner, here's my favorite clip-on guitar tuner (on Amazon).
Also: you will need a capo to play some of these songs. If you don't have a capo (or want to upgrade to a better one) here's my favorite capo (on Amazon).
How to Listen to These Songs for FREE
If you're unfamiliar with any of these songs and want to listen to them in their entirety, I really recommend doing so with Amazon Music Unlimited. If you simply sign up for their free trial, you get access to over 60 million songs completely free – and you can listen anytime, anywhere. It's a great way to enjoy some awesome acoustic music. You can check out the free trial here.
Do You Need an Acoustic Guitar to Play These 35 Easy Song Tabs?
Before we get started, I want to answer a common question about the following songs. Can you learn these songs if you have an electric or classical guitar, instead of an acoustic? The answer is yes. While the songs themselves feature an acoustic guitar, you can play the tabs and chords for each song on an electric or classical guitar.
However, if you want to sound most like the original song, it's probably best to play the song on an acoustic guitar. If you're new to the guitar, or are an electric guitarist looking to transition to acoustic, then I recommend checking out my 10 favorite acoustic guitars for beginners on a budget.
Or if you want a resource-packed acoustic guitar buyer's guide, where I walk you through every step of the process, from deciding what kind of wood you want, what the best guitar strings are, and how to maintain your guitar for years to come, you might want to grab my ultimate acoustic buyer's guide (now available on Amazon).
But now that we've got the guitar details figured out, let's jump into these 35 Easy Song Tabs on Acoustic Guitar.
Need More Help Getting Started?
If you're still looking for more free guitar lesson resources, I'd recommend subscribing to some of the awesome acoustic guitar YouTube channels out there. The only trouble is – it can be hard to find the right channels, and to know who's really putting out good information.
That's why I wrote up a whole guide post on my 8 favorite YouTube channels for learning acoustic guitar.
Ready to Get Better at Guitar, Faster?
Whenever you're ready to take your guitar playing to the next level, check out a few of my favorite resources below:
The Best Acoustic Guitar Strings – A unique polymer coating makes these guitar strings last for months or even years at a time, making for an exceptional value. They provide the perfect mix of boom, range, twang, and brightness that acoustic music is known for. — CLICK HERE TO LEARN MORE
The Best Acoustic Guitar – Beloved by everyone from Paul Simon to Gordon Lightfoot, the Martin D-18 is one of Martin's most legendary guitars ever… It's an excellent, premier quality acoustic guitar for bluegrass, country, folk, rock and more. This is also what I play myself — CLICK HERE TO LEARN MORE
Chords, Tabs & Video Lessons for 100 Epic Songs – This free guide that I created for fellow guitarists gives you chords, tabs, and video lessons for the 100 best songs to learn on guitar… I spent many hours putting this guide together to help you get better at guitar, faster. — CLICK HERE TO GET IT FREE
Fingerpicking vs Flatpicking Guitar – Learn which picking style is right for YOU by exploring examples, history, and popular players of each style. Discover essential techniques and pros and cons of each approach. — CLICK HERE TO GET IT FREE