I've always said that the fastest and easiest way to learn the guitar is by learning songs that you love. With this list of the 100 best easy acoustic guitar songs, I'm sure you'll find beloved songs that you recognize and will enjoy learning.
The list pulls from a variety of artists, genres, and musical styles so there's truly something for everyone. I also included chords, tabs, and the best video lesson I could find for each song.
Many of the songs use just a few chords, so they're very beginner friendly.
I hope you get a lot of value out of this post (if so – share it with a fellow guitar player!).
One final note before we get started: don't forget to tune your guitar! These songs won't sound right if your guitar is out of tune… So use my free online guitar tuner to make sure your guitar is in tune before you start learning these songs. Tune up here.
Now without further ado, let's jump into these 100 easy acoustic guitar songs (with chords, tabs, and video lessons):
100 Easy Acoustic Guitar Songs
Learn More Acoustic Guitar Songs From Your Favorite Artists
If you enjoyed this post, make sure to check out my other guides with chords, tabs and lessons for some of the best bands and musical genres:
Ready to Get Better at Guitar, Faster?
Whenever you're ready to take your guitar playing to the next level, check out my favorite resources below:
Best Strings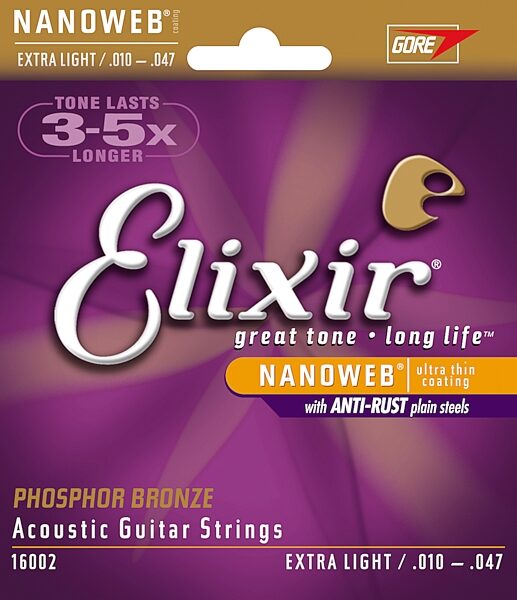 Elixir Nanoweb Acoustic Guitar Strings
Unique polymer coating allows strings to last for months or years at a time, making for an exceptional value.
Provide the perfect mix of boom, range, twang, and brightness that acoustic music is known for.
Best Guitar

Martin D-18
Beloved by everyone from Paul Simon to Gordon Lightfoot, the D-18 is one of Martin's most legendary guitars ever.
An excellent, premier quality acoustic guitar for bluegrass, country, folk, rock and more. This is what I play myself.
Free Guide
Chords, Tabs & Lessons for 100 Songs
This free guide from Acoustic World gives you chords, tabs, and video lesson for the 100 best songs to learn on guitar.
I spent hours putting this together all by myself to help you get better at guitar, faster!
Free Book
Fingerpicking vs Flatpicking Guitar
Learn which picking style is right for YOU by exploring examples, history, and popular players of each style.
Discover essential techniques and pros and cons of each approach.