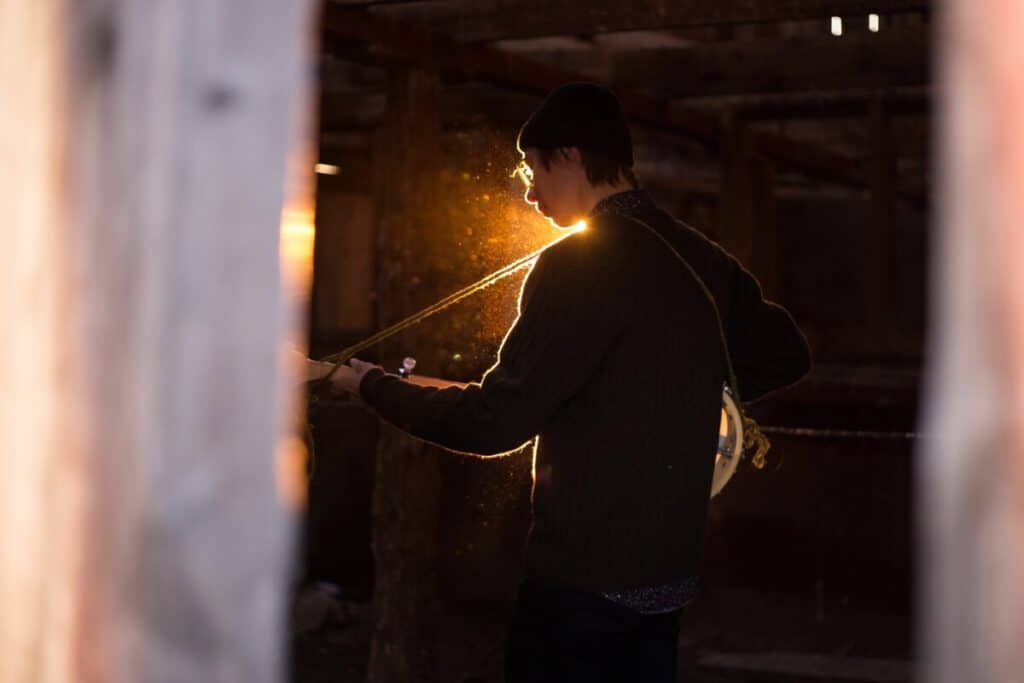 The dobro, or resonator guitar, is a popular instrument in bluegrass, country, and even some rock music. If you're looking to learn more about the dobro, one great place to start is by learning more about the best dobro players of all time.
This list is here to help you find the best dobro players, and their best music. Below you'll learn the best dobro and resonator guitar players, and also get to listen to some of their music.
To help with this I included a sample of each musician from YouTube. But if you really want to enjoy the full catalog of their music, I recommend listening to their body of work with Amazon Music Unlimited.
With Amazon Music's free trial, you get access to over 60 million songs completely free – and you can listen anytime, anywhere. You can check it out here (link to Amazon).
Now without further ado, let's discover the 30 best dobro players of all time.
Jerry Dougolas
Gerald Calvin "Jerry" Douglas is an American resonator guitar and lap steel guitar player and record producer.
Douglas is one of the most well-known resonator players in the bluegrass world, and has performed with Tony Rice, Mark O'Connor, and other bluegrass legends.
Josh Graves
Josh Graves, born Burkett Howard Graves, was an American bluegrass musician.
Also known by the nicknames "Buck," and "Uncle Josh," he is credited with introducing the resonator guitar into bluegrass music shortly after joining Lester Flatt, Earl Scruggs and the Foggy Mountain Boys in 1955.
Martin Gross
Martin Gross has been called "a Rembrandt of the square neck guitar."
His talent goes beyond good and enters into a class that inspires others.
Rob Ickes
Rob Ickes [rhymes with "bikes"] is an American dobro player, born in 1967 in San Francisco, California, United States.
Ickes moved to Nashville in 1992 and joined the contemporary bluegrass band Blue Highway as a founding member in 1994.
Andy Hall
Andy Hall graduated from the Berklee College of Music in Boston, MA with a degree in Music Production and Engineering.
Andy is a founding member of the acclaimed band, The Infamous Stringdusters, who in 2007 won 3 IBMA awards for their debut album, Fork In The Road.
Andy has played resophonic guitar with many legends in the studio and on stage with Dolly Parton, Earl Scruggs, Emmylou Harris, Zack Brown, Charlie Daniels.
Andy brings forth a new generation attitude and remarkable passion toward the traditional resophonic guitar in the online lessons at ArtistWorks.
Jimmy Heffermnan
Jimmy Heffernan is a highly respected Nashville session player, sideman, and producer.
He's a versatile multi-instrumentalist, and one of the true masters of the resonator guitar.
Orville Johnson
Orville Johnson is an American resonator guitar player born in 1953 in Edwardsville, Illinois, United States. He came up in the St. Louis, Missouri music scene.
A frequent session musician, he also has released a number of solo and group albums.
Pete "Bashful Brother Oswald" Kirby
Beecher Ray "Pete" Kirby, better known as Bashful Brother Oswald, was an American country musician who popularized the use of the resonator guitar and Dobro.
He played with Roy Acuff's Smoky Mountain Boys and was a member of the Grand Ole Opry.
Phil Leadbetter
Phil Leadbetter is one of the leading players of the resonator guitar.
Born in Knoxville, Tennessee, Leadbetter began playing the resonator guitar at age 12.
Lloyd Maines
Lloyd Wayne Maines is an American country music record producer, musician and songwriter.
He was inducted into the Austin City Limits Hall of Fame as one of the first three members, the other two being Willie Nelson and Stevie Ray Vaughan
Stacy Philllips
Stacy Phillips Birth name, Melvin Marshall, was an American Grammy Award winning resophonic guitarist and fiddler, noted for his unusual chord-based resophonic guitar playing.
Phillips is also noted for producing a large volume of instructional material for the fiddle and for the resophonic guitar.
Ivan Rosenberg
Ivan Rosenberg got started like many other dobro pickers—by seeing Jerry Douglas play live. Nowadays, he is a highly accomplished player in his own right.
Josh Swift
Josh Swift is an accomplished dobro player with his own signature model. You can see him demoing it above.
Tut Taylor
Robert Arthur "Tut" Taylor Sr. was an American bluegrass musician.
Taylor played banjo and mandolin as a child, and began playing dobro at age 14, learning to use the instrument with a distinctive flat-picking style.
Sally Van Meter
Sally Van Meter is one of the top dobro players in the bluegrass field.
She has played with Blue Rose and the Good Ol' Persons.
Lou Wamp
Lou Wamp has played some kind of instrument for as long as he can remember. Born at Ft. Benning, GA, he grew up hearing his grandfather play "Travis style" guitar and became enamored with stringed instruments.
He studied music at Cadek Conservatory in Chattanooga, and fine art at the University of Tennnessee (BA, 1980).
In the late 70's he fell in love with the resonator guitar (dobro) and, like Jerry Douglas, began to explore it as an instrument without creative limitations.
Mike Witcher
The youngest of five siblings (including a twin brother) in a musical and artistic family in the suburbs of Los Angeles, Mike Witcher began playing the resonator guitar at the age of 14.
Influenced by the many styles of music he heard at home, he was soon playing with his father, Dennis, and brother Gabe (who currently plays in Punch Brothers) in the legendary Southern California-based bluegrass band the Witcher Brothers.
An in-demand session player in LA and Nashville, Michael has worked with Dwight Yoakam, Peter Rowan, Laurie Lewis, Missy Raines and the New Hip, John Paul Jones (Led Zeppelin bassist), Sara Watkins (Nickel Creek), and many others.
Gene Wooten
Gene Wooten was an American dobro player and multi-instrumentalist.
Mike Auldridge
Mike Auldridge was an American Dobro player and a founding member of the bluegrass group The Seldom Scene.
The New York Times described Auldridge as "one of the most distinctive dobro players in the history of country and bluegrass music while widening its popularity among urban audiences".
Johnny Bellar
Famous as a Nashville session musician and composer of gorgeous melodies, and the 2005 National Resonator Guitar Champion, Johnny Bellar is occasionally seen on Nashville Now and the Grand Ole Opry and at "guitar wizard" gatherings in the USA, Australia, and England.
Greg Booth
Greg Booth's path to the dobro was a winding road that started with the banjo and lessons from banjo legend Bill Emerson. After a few years, Greg's ambition turned to the pedal steel guitar and the last frontier, Alaska.
A thriving music scene during the oil boom of the '70s and '80s gave him the chance to play as much as 7 nights a week and 7 hours a night for many years. That much time playing diverse music forged a style that is uniquely his own.
Bob Brozman
Bob Brozman was an American dobro player and ethnomusicologist.
Curtis Burch
Born in Montgomery Alabama, Curtis Burch learned to play guitar from his father at the age of 10. Growing up they had a family band that included his brother Ricky. As a teen Curtis sat in with the Stanley Brothers, Jim & Jesse McReynolds & the Osborne Bro's.

Burch joined and left the Bluegrass Alliance in 1971 to form New Grass Revival with bandmates Sam Bush, Courtney Johnson and Ebo Walker.
Billy Cardine
Billy Cardine is a genre-blurring composer, slide guitarist, multi – instrumentalist who currently performs with a variety of bands and is an active session musician and producer.
He has been featured on, BBC World's Destination Music, the PBS Roadtrip Nation, the new Jerry Douglas Production "Southern Filibuster", The History Channel's Our Generation, and at The Ryman Auditorium, Carnegie Hall, The Kennedy Center, Bonnaroo and NPR's Mountain Stage.
Cindy Cashdollar
Cindy Cashdollar is an American musician specializing in steel guitar and Dobro.
She grew up in Woodstock, New York, where she perfected her skills by playing with bluegrass musician John Herald, blues musician Paul Butterfield, and Levon Helm and Rick Danko of The Band.
Ready to Get Better at Guitar, Faster?
Whenever you're ready to take your guitar playing to the next level, check out a few of my favorite resources below:
The Best Acoustic Guitar Strings – A unique polymer coating makes these guitar strings last for months or even years at a time, making for an exceptional value. They provide the perfect mix of boom, range, twang, and brightness that acoustic music is known for. — CLICK HERE TO LEARN MORE
The Best Acoustic Guitar – Beloved by everyone from Paul Simon to Gordon Lightfoot, the Martin D-18 is one of Martin's most legendary guitars ever… It's an excellent, premier quality acoustic guitar for bluegrass, country, folk, rock and more. This is also what I play myself — CLICK HERE TO LEARN MORE
Chords, Tabs & Video Lessons for 100 Epic Songs – This free guide that I created for fellow guitarists gives you chords, tabs, and video lessons for the 100 best songs to learn on guitar… I spent many hours putting this guide together to help you get better at guitar, faster. — CLICK HERE TO GET IT FREE
Fingerpicking vs Flatpicking Guitar – Learn which picking style is right for YOU by exploring examples, history, and popular players of each style. Discover essential techniques and pros and cons of each approach. — CLICK HERE TO GET IT FREE