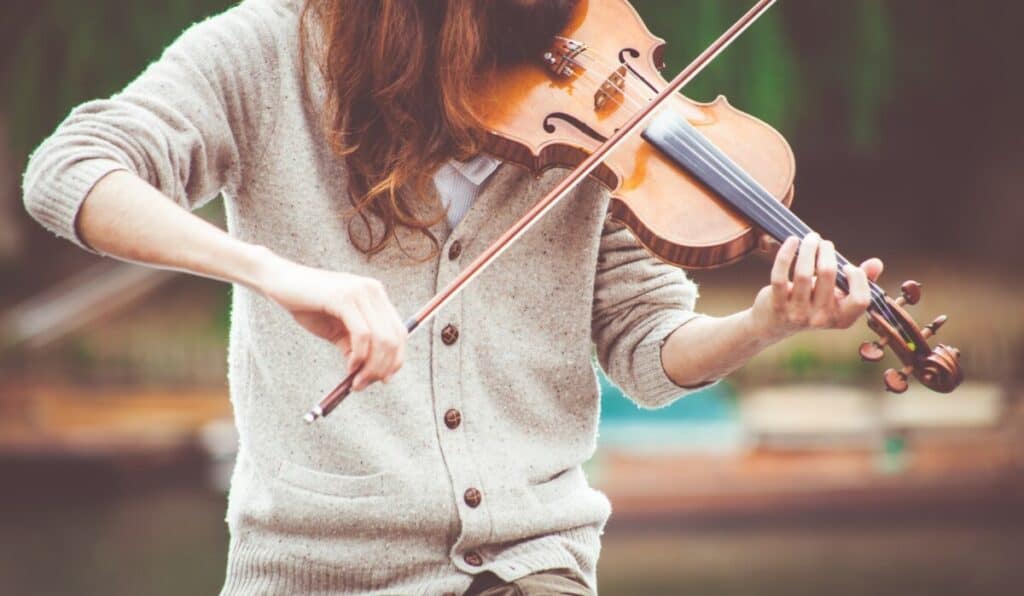 There's nothing like a traditional reel, jig, cajun or country music classic played on a fiddle. Fiddle players often go too unrecognized in the musical world, so I wanted to create a list of some of my favorites.
This list goes in no particular order, but in it you'll find the best fiddle players of all time. Meaning early bluegrass fiddle innovators to modern-day virtuosos, and even dubstep fiddlers (yes, crazy, I know).
I hope you enjoy this list of the 20 best fiddle players of all time. If so, please share it with your friends or fellow fiddlers or music lovers.
How to Listen to These Fiddlers for Free
To get a feel for each fiddler's style, I've included a sample of their music from YouTube. But if you really want to enjoy the full catalog of their music, I recommend listening to their body of work with Amazon Music Unlimited.
With Amazon Music's free trial, you get access to over 60 million songs completely free – and you can listen anytime, anywhere. You can check it out here (link to Amazon).
Now without further ado, let's discover the 20 best fiddlers of all time.
Mark O'Connor
Mark O'Connor is an American violinist and composer whose music combines bluegrass, country, jazz and classical.
O'Connor has released 45 albums, of mostly original music, over a 45-year career. He has recorded and performed mostly his original American Classical music for decades.
Vassar Clements
Vassar Carlton Clements was an American Grammy Award-winning American jazz, swing, and bluegrass fiddler.
Clements has been dubbed the Father of Hillbilly Jazz, an improvisational style that blends and borrows from swing, hot jazz, and bluegrass along with roots also in country and other musical traditions.
Bob Wills
James Robert Wills was an American Western swing musician, songwriter, and bandleader. Considered by music authorities as the co-founder of Western swing, he was known widely as the King of Western Swing.
In 1972, Wills accepted a citation from the American Society of Composers, Authors and Publishers in Nashville.
He was recording an album with fan Merle Haggard in 1973 when a stroke left him comatose until his death in 1975.
The Rock and Roll Hall of Fame inducted Wills and the Texas Playboys in 1999.
Craig Duncan
Craig Duncan, a member of the North American Fiddler's Hall of Fame and Who's Who in Music and Musicians has been the featured instrumentalist on over sixty record albums, with sales in excess of five million.
His music has been heard on TV shows Malcolm in the Middle and The Oprah Winfrey Show, as well as on programs on A&E, Biography, BET, PBS, History and other cable channels.
He has produced numerous recordings for the gift shop market in a variety of musical styles. He is also recognized internationally for his many books and arrangements of fiddle and violin music published by Mel Bay Publications.
Duncan has recorded for Randy Travis, Billy Dean, Kathy Mattea, Charlie McCoy and Roy Clark and worked on over 100 Television shows with Porter Wagoner.
Jay Ungar
Jay Ungar is an American folk musician and composer. Ungar was born in the Bronx, New York City. He frequented Greenwich Village music venues during his formative period in the 1960s.
In the late 1960s, he became a member of Cat Mother and the All Night News Boys and later, the Putnam String County Band.
Although he performs with David Bromberg, he is probably best known for "Ashokan Farewell" (1982), composed as a lament,[3] and used as the theme tune to the Ken Burns documentary The Civil War (1990).
Many of his other compositions are familiar as contradance tunes, notably "The Wizard's Walk."
Darol Anger
Darol Anger is an American violinist and founding member of The David Grisman Quintet.
Today, Darol is also passionate about teaching others to excel on the violin.
In Darol's latest ArtistWorks course, he gives you access to a truly comprehensive video library with hundreds of violin lessons covering many musical styles:
Darol's students enjoy unlimited access to:
hundres of fiddle lessons online, at your own pace
Complete tablature
Mp3 play along tracks and jam tracks
So to learn violin from one of the best players of all time, I recommend checking out Darols course here.
Justin Branum
Justin Branum is a fiddler and multi-instrumentalist whose main work expertise lies in recording sessions/overdubs, touring, producing, and teaching music.
Growing up playing western swing, bluegrass, country music, and old-time fiddle tunes, he was frequently playing in various instrument contests and has won the Grand Master Fiddler Contest, National Fiddle Contest (adult division), Tennessee State Fiddle Championship, Tennessee State Mandolin Championship, Texas State Fiddle Championship (Gone to Texas division) among many others before retiring from the contest scene.
Bobby Hicks
Bobby Hicks is a Grammy Award winning American bluegrass fiddler and a professional musician with more than fifty years of experience.
Hicks was born in Newton, North Carolina and learned to play the fiddle before he was 9 years old. He attended several fiddlers conventions and at the age of eleven, he won the "North Carolina State Championship" playing the tune "Black Mountain Rag". He joined Jim Eanes band in the early fifties.
In 1953, he was, through the bluegrass festivals arranger Carlton Haney, hired as a bass player in Bill Monroe's Bluegrass Boys. He did not record with the Bluegrass Boys until December 31, 1954, by then he had switched to fiddle.
Alasdair Fraser
Alasdair Fraser is a Scottish fiddler, composer, performer and recording artist.
Fraser operates Culburnie Records and is a leading artist on the label.
Natalie MacMaster
Natalie MacMaster CM ONS is a Canadian fiddler from Troy, Inverness County, Nova Scotia who plays Cape Breton fiddle music.
MacMaster has toured with the Chieftains, Faith Hill, Carlos Santana, and Alison Krauss, and has recorded with Yo-Yo Ma.
Martin Hayes
Martin Hayes is an Irish fiddler from County Clare.
He is a member of the Irish-American supergroup The Gloaming.
Hayes is regarded as one of the most significant talents to emerge in the world of Irish traditional music.
Doug Kershaw
Douglas James Kershaw is an American fiddle player, singer and songwriter from Louisiana.
Active since 1948, he began his career as part of the duo Rusty and Doug, along with his brother, Rusty Kershaw.
Charlie Daniels
Charles Edward Daniels was an American singer, songwriter and multi-instrumentalist known for his contributions to Southern rock, country, and bluegrass music.
He was best known for his number-one country hit "The Devil Went Down to Georgia".
Tom Rigney
Tom Rigney is an American, San Francisco Bay Area musician, specializing in Zydeco and Cajun music. He is an electric violinist and Cajun fiddler.
He is the leader of the American roots music band, Tom Rigney and Flambeau.
Amanda Shaw
Amanda Christian Amaya-Shaw is an American Cajun fiddler, singer, and actress from Mandeville, Louisiana.
Shaw received some of her early musical training in Southeastern Louisiana University's Community Music School.
She studied classical violin starting at age 4, and at 8 began playing and performing Cajun music. Shaw would have graduated from Mount Carmel Academy in New Orleans in 2008 but she opted instead to continue traveling around the country to perform.
Lindsey Stirling
Lindsey Stirling is an American violinist, songwriter, and dancer. She presents choreographed violin performances, in live and music videos found on her official YouTube channel, which she created in 2007.
Stirling performs a variety of music styles, from classical to pop and rock to electronic dance music.
Sara Watkins
Sara Ullrika Watkins is an American singer-songwriter and fiddler.
Watkins debuted in 1989 as the fiddler of Nickel Creek, the progressive bluegrass group she formed with her brother Sean and mandolinist Chris Thile.
Ron Stewart
Ron Stewart is an American multi-instrumentalist in the bluegrass tradition.
He plays fiddle, guitar, banjo, and mandolin, and has won the International Bluegrass Music Association award for Fiddle Player of the Year in 2000 and Banjo Player of the Year in 2011.
Jenee Fleenor
Jenee Fleenor is an American musician. A singer-songwriter, she plays the fiddle, mandolin and acoustic guitar and has performed with various musicians and bands.
Paul Anderson
Already something of a legend in the time honoured fiddle tradition of Scotland; Paul Anderson is the finest Scots fiddler of his generation. Although only in his forties, he is already something of an icon in Scotland, a fact duly recognised.
In the tradition of many of Scotlands great fiddlers, Paul is a composer of some repute, having composed over 300 pieces in the Scots style.