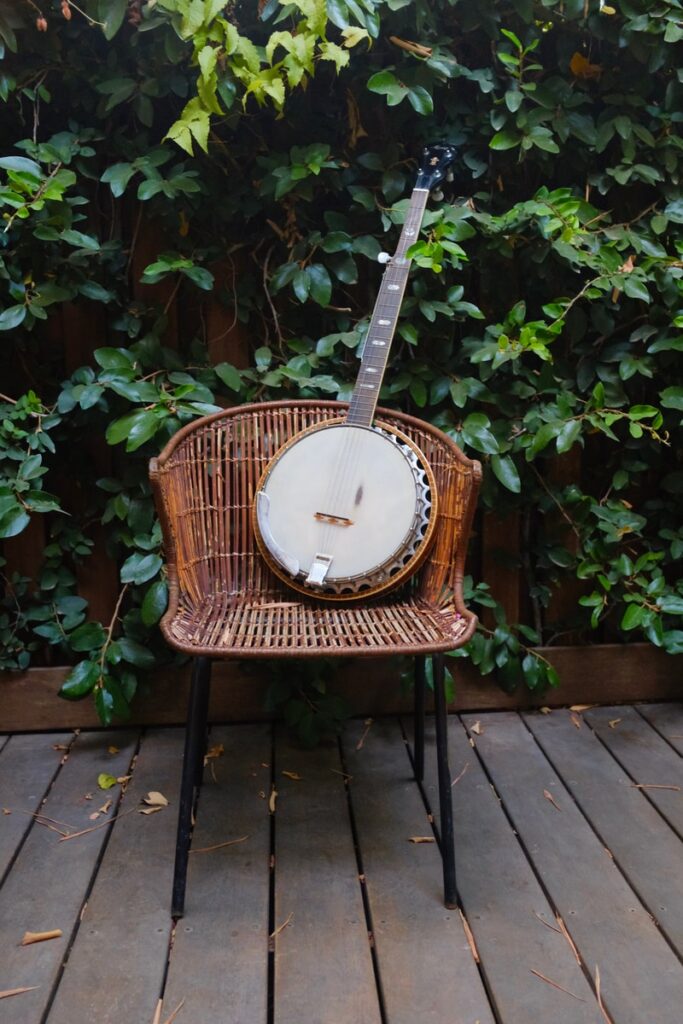 In the bluegrass world, the banjo is one of the quintessential parts of any good band. But because the banjo is a bit less popular than, say, the guitar, it's easy for banjo players to fly under the radar. However, if you're like me, the best parts of some of your favorite bluegrass songs are the banjo breaks. That's why I thought I'd write a full guide post to give these players the attention they deserve.
The banjo is most commonly used in bluegrass music. If you're new to bluegrass music, wondering what it is or how it started, I have a full guide to the origins of bluegrass music.
Also, if you're a banjo player yourself, don't forget to check out my other helpful articles on bluegrass and clawhammer banjo:
Now without further ado, let's discover the best banjo players of all time (in no particular order).
Bela Fleck
My original name for this website, and my brand, was always either going to be Acoustic World or Acoustic Planet. I eventually settled on Acoustic World – but the truth is that both of these ideas were inspired by the title of my favorite Bela Fleck album.
If you follow the bluegrass scene closely, you likely already know who Bela Fleck is. He's a world class banjo player, who often plays alongside Tony Rice, Mark O'Connor and other acoustic greats. But Bela Fleck frequently journeys outside the realm of bluegrass in his banjo playing.
Tales From The Acoustic Planet (on Amazon) is a great example of the versatility of the banjo, and showcases the many sounds and styles that are possible with this instrument when it's in the hand of a true master. Fleck's music combines a vast array of acoustic stylers: world, folk, jazz, country, bluegrass, rock… to create an acoustic amalgamation that has never been heard before. Give it a listen, and I'm sure you'll agree there's nothing else quite like it.
Jim Mills
Jim mills is a bluegrass banjo player heavily influenced by Earl Scruggs. Mills plays in Scruggs' "3 Finger Style" of banjo playing. Jim is also an expert on banjos historically speaking, and is particularly knowledgeable about pre-war Gibson banjos.
Jim was the main banjo player for Ricky Skaggs and Kentucky Thunder for 14 years. He left the group to focus on his business of buying and selling pre-war banjos. He still operates that business to this day out of Durham, North Carolina.
Earl Scruggs
Earl Scruggs is one of the most important banjo players in history. He was a pioneer of the bluegrass banjo style, influencing countless other players. His 3 finger style of banjo playing is still utilized and taught by many players today. He was a core member of the bluegrass power duo Flat & Scruggs, who wrote some of the most time-honored bluegrass classics that are still loved to this day.
Sonny Osborne
As a member of the Osborne Brothers band, Sonny Osborne is known for his hard-driving banjo style in classic songs like Rocky Top and the Osborne Brothers Banjo Medley.
Steve Martin
Yes, that Steve Martin. Did you know that, in addition to his acting career, he's a world class banjo player?
While he has played banjo since an early age, and included music in his comedy routines from the beginning of his professional career, Steve has increasingly dedicated his career to music since the 2000s, acting less and spending much of his professional life playing banjo, recording, and touring with various bluegrass acts, including Earl Scruggs, with whom he won a Grammy for Best Country Instrumental Performance in 2002.
Tony Trischka
Anthony Cattell Trischka is an American five-string banjo player.
Today, Tony is also passionate about teaching others to excel on the banjo.
In Tony's latest ArtistWorks course, he gives you access to a truly comprehensive video library with hundreds of banjo lessons covering many musical styles:
Tony's students enjoy unlimited access to:
hundreds of banjo lessons online, at your own pace
Complete tablature
Mp3 play along tracks and jam tracks
So to learn banjo from one of the best players of all time, I recommend checking out Tony's course here.
Ralph Stanley
Ralph Stanley is one of the famous Stanley Brothers – a duo who had a huge influence on the development of bluegrass music and banjo and guitar playing.
Jerry Garcia
Did you know Jerry Garcia was actually a very accomplished banjo player? Before his time with the Grateful Dead, Jerry played a lot of bluegrass music with a group called Old & In The Way. This group had several members who went on to be forces of nature in the bluegrass world, including Peter Rowan, David Grisman and Vassar Clemens.
Rob McCoury
Rob McCoury is a key member of the Del McCoury Band, an extremely popular bluegrass band. He is the son of the band's founder, Del McCoury. Rob was exposed to bluegrass from a young age, through his father's band, Del McCoury & The Dixie Pals. At the age of 8 he started playing the banjo after seeing The Osborne Brothers play at Sunest Park in West Grove, PA
Don Reno
Don Reno is another pioneer of the three‐finger approach to playing the banjo. Don's banjo style is largely influenced by jazz and the guitar. As such, he introduced single‐string scales, chordal licks, and other techniques to many players that he would later go on to inspire.
J. D. Crowe
J. D. Crowe is arguably the most influential banjo player after Earl Scruggs. Using Scruggs' style as a starting point, J. D. makes heavy use of other genres like folk, country, and early rock‐'n'‐roll influences. In doing this, he was able to create a bluesy driving banjo style with some of the most memorable licks in the bluegrass genre. His band The New South has included many other bluegrass legends, such as Tony Rice.
Veronica "Roni" Stoneman
Roni was the first woman to play bluegrass banjo on an LP. She went on to a great deal of widespread fame weith the Stoneman Family and their syndicated TV show. The Stoneman Family won the Country Music Vocal Group of the Year award in 1967. Roni still performs musically to this day.
Bill Keith
Bill Keith developed a melodic style of banjo playing. This is perhaps the most popular alternative to Scruggs' technique. Keith's is a devotee of music theory, and his music encourages many players to step outside of the traditional bluegrass comfort zone to play different kinds of music.
Bill Keith also invented the Keith "D" tuning pegs, which allow you to precisely change a string's pitch even while a song is being played.
Tony Trischka
Tony Trischka is a gifted composers, instructor and author in addition to being a master banjo player. He has written over fifteen instructional books and a series of DVDs. In July 2009 he launched the groundbreaking Online Banjo School with Tony Trischka, an interactive, online learning school that teaches students around the world how to play banjo with ArtistWorks. Trischka is closely associated with "newgrass."
Murphy Henry
Murphy Henry teaches banjo, guitar, mandolin, and fiddle. He's the creator of "The Murphy Method" – a way of teaching bluegrass music BY EAR. They use no tablature in our teaching because we believe tablature is a crutch that interferes with learning to play bluegrass. They explain each song note by note, so that it is easy and quick to learn.
Alison Brown
Alison Brown is an American banjo player, guitarist, composer, and producer. She has won and has been nominated for several Grammy awards and is often compared to another banjo prodigy, Béla Fleck, for her unique style of playing. In her music, she blends jazz, bluegrass, rock, blues as well as other styles of music.
Jens Kruger
Banjo player extraordinaire Jens Kruger is the recipient of the fourth annual Steve Martin Prize for Excellence in Banjo and Bluegrass. The musician is known for his innovative banjo style that integrates folk music with European classical music.
Kristin Scott Benson
Kristin Scott Benson is the five-time International Bluegrass Music Association's Banjo Player of the Year and recipient of the 2018 Steve Martin Prize for Excellence in Banjo and Bluegrass. Since 2008, she has been a member of Grammy-nominated and two-time IBMA Entertainers of the Year, The Grascals.
Noam Pikelny
Noam Pikelny is an American banjoist. He is a member of the group Punch Brothers and was previously in Leftover Salmon as well as the John Cowan Band.
Allen Shelton
Allen Shelton was an American five-string banjo player mostly known for being a member of the bluegrass band Jim & Jesse and the Virginia Boys since the 1960s. Shelton was born in Rockingham County, North Carolina on July 2, 1936. Shelton started playing the banjo when he was fourteen
Doug Dillard
Doug Dillard was an American musician noted for his banjo proficiency and his pioneering participation in late-60s country rock. His banjo heroes were Earl Scruggs, Ralph Stanley, and Don Reno. After corresponding with Scruggs, Dillard persuaded his parents to drive him to Scruggs' home in Madison, Tennessee, where Scruggs installed "Scruggs Tuners" on Dillard's banjo. By age 19, Dillard was performing regularly on a weekly radio show hosted by Howe Teague on KSMO, a Salem radio station.