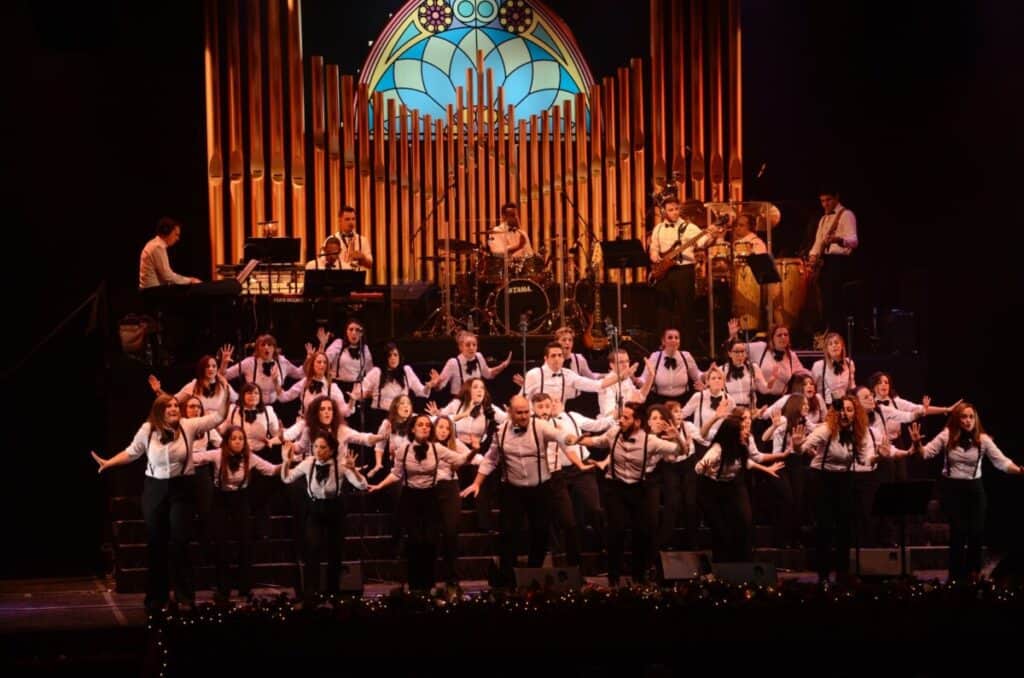 Bluegrass music has a wide range of subcategories like Gospel, Fiddle Tunes, Reels, and Ballads. In this post, we'll be taking a look at the 10 best bluegrass gospel songs of all time. By the way, if you're interested in the origins of bluegrass music, I have a whole post on how bluegrass music got started.
If you're a bluegrass guitarist, I also have several bluegrass guitar lessons for free on my YouTube Channel.
Now obviously, "best" is subjective in music, but these songs are my all-time favorites and are a great starting point for someone who wants to begin listening to bluegrass gospel music.
Listen to Bluegrass Gospel Music for Free
Before we get started, I thought I'd let you know my favorite way to listen to music currently. I love using Amazon Music Unlimited, as you can stream thousands of songs from your favorite artists. Also, they're running a free trial right now, so you can stream hours of awesome music absolutely free! Check it out here.
Without further ado, here are The 10 Best Bluegrass Gospel Songs Of All Time:
1. Will The Circle Be Unbroken
"Will the Circle Be Unbroken?" is actually an old Christian hymn that dates back to 1907. It was written by Ada R. Habershon with music by Charles H. Gabriel. The song has lapsed into the public domain, and has been covered by everyone from Willy Nelson to the Nitty Gritty Dirt Band.
It's also a mainstay in many bluegrass circles though, and appears on many bluegrass gospel albums and live performances.
Here's a performance of "Will the Circle Be Unbroken" featuring Johnny Cash, The Nitty Gritty Dirt Band, and bluegrass legend Ricky Skaggs:
2. Someday – Blue Highway
This beautiful song by Blue Highway features pure vocals and harmonies, and no instruments whatsoever. This acapella approach makes it a very unique recording in the bluegrass space, and clearly shows it's gospel influence.
The lyrics are beautiful and have many prominent gospel themes:
3. By The Mark – Dailey & Vincent
Dailey and Vincent are two of the most talented singers on the modern bluegrass and country scene. Both have very strong gospel influences that shine through in their style and the songs they choose to feature on their albums.
"By The Mark" is one of my favorite songs they've done. The song is a gospel classic originally made famous by Gillian Welch. But this version features amazing harmonies by both singers:
4. I Have Found The Way – Doyle Lawson & Quicksilver
Doyle Lawson and Quicksilver have produced some of the best modern bluegrass gospel music out there. "I Have Found the Way" is one of my favorites.
It features the killer fiddle and banjo work of bluegrass music, while working in the harmonies and lyrics that gospel is famous for:
5. – Happy On My Way – Doyle Lawson & Quicksilver
Here's another Doyle Lawson & Quicksilver classic, "Happy On My Way."
More great, uplifting gospel lyrics on this one:
6. Hallelujah / I'm Ready to Go – Ricky Skaggs
Ricky Skaggs is a unique musician in the bluegrass world, as he's done traditional bluegrass classics, straight up gospel tunes, and has also recorded several mainstream country hits (like "Highway 40 Blues"). He truly seems to have done it all.
"Hallelujah / I'm Ready to Go" represents his skill in traditional bluegrass and gospel singing:
7. Crying Holy Unto The Lord – Vince Gill
Vince Gill is most well known as a country musician. However, he's done several bluegrass recordings with people like Alison Krauss and the Del McCoury band. Much of his country music has a Christian and Gospel influence (like "Go Rest High on that Mountain"), and the bluegrass music he plays is no different.
Here's Vince Gill playing "Crying Holy Unto The Lord" :
8. River of Death – Bill Monroe
Bill Monroe is considered by many to be the father of bluegrass music. Most of his early work and albums featured many gospel songs. One of the best is "River of Death."
Bill Monroe went on to influence many of the best bluegrass musicians to later emerge, such as Tony Rice, who later went on to release an entire album of Bill Monroe covers. Here's Tony covering Bill's "River of Death" :
9. Where The Soul of Man Never Dies – Skaggs & Rice
We've now mentioned both Tony Rice and Ricky Skaggs in this post. These two men are two of the biggest powerhouses in bluegrass music, and they actually teamed up to produce an album together, known simply as "Skaggs and Rice."
"Where the Soul of Man Never Dies" is one of the best songs from that album. Here's a live performance:
10. The Old Crossroads – Skaggs & Rice
The Skaggs & Rice album is full of gospel gems. Another one is "The Old Crossroads."
It features beautiful harmonies from both Ricky Skaggs and Tony Rice, as well as Tony's world class guitar playing and Ricky's amazing mandolin work:
Ready to Get Better at Guitar, Faster?
Whenever you're ready to take your guitar playing to the next level, check out a few of my favorite resources below:
The Best Acoustic Guitar Strings – A unique polymer coating makes these guitar strings last for months or even years at a time, making for an exceptional value. They provide the perfect mix of boom, range, twang, and brightness that acoustic music is known for. — CLICK HERE TO LEARN MORE
The Best Acoustic Guitar – Beloved by everyone from Paul Simon to Gordon Lightfoot, the Martin D-18 is one of Martin's most legendary guitars ever… It's an excellent, premier quality acoustic guitar for bluegrass, country, folk, rock and more. This is also what I play myself — CLICK HERE TO LEARN MORE
Chords, Tabs & Video Lessons for 100 Epic Songs – This free guide that I created for fellow guitarists gives you chords, tabs, and video lessons for the 100 best songs to learn on guitar… I spent many hours putting this guide together to help you get better at guitar, faster. — CLICK HERE TO GET IT FREE
Fingerpicking vs Flatpicking Guitar – Learn which picking style is right for YOU by exploring examples, history, and popular players of each style. Discover essential techniques and pros and cons of each approach. — CLICK HERE TO GET IT FREE