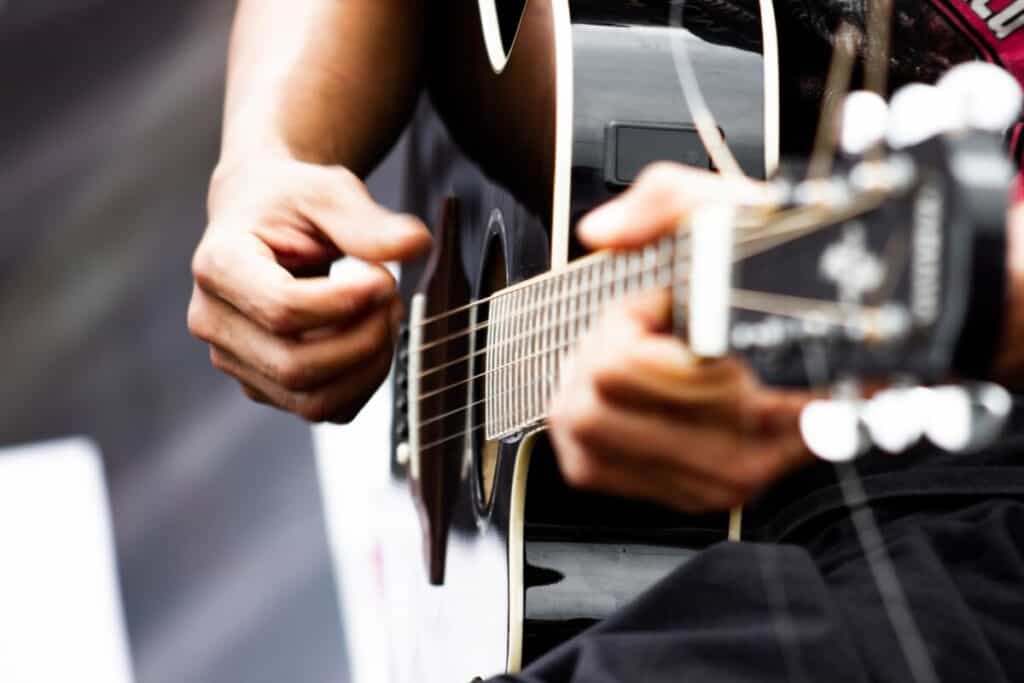 Looking for the best acoustic guitar solos ever? These solos will inspire you to take your acoustic guitar playing to new heights. I've tried to feature a sampling of players from a wide variety of genres. At the end of the article, I'll even reveal how you can learn 50 acoustic guitar songs for free. Let's get started!
To get a feel for each guitar solo, I've included a sample of the song from YouTube. But if you really want to enjoy the full catalogue of this music, I recommend listening to their body of work with Amazon Music Unlimited. With Amazon Music's free trial, you get access to over 60 million songs completely free – and you can listen anytime, anywhere. You can check it out here (link to Amazon).
1. Tommy Emmanuel – Guitar Rag
Tommy Emmanuel is one of the best fingerstyle players to ever live, but what may be even more impressive are his composing skills. Though most of his songs feature just Emmanuel and his guitar, they are extremely captivating and moving, showing off the emotional depth that is possible with this style of guitar playing.
2. Tony Rice – Freeborn Man
This song was originally written by The Outlaws, but Tony's playing on it was what put the song on my radar. It features an incredible solo from Tony, and the live version above has an all-star cast holding down the rest of the band – with Bela Fleck on banjo, Sam Bush on Mandolin, and Jerry Douglas on Dobro, and Mark O'Connor on fiddle.
3. John Butler – Ocean
Known for his percussive style and his frequent use of a 12 string acoustic, John Butler and his John Butler Trio have one of the most unique acoustic sounds on the scene today. His song Ocean is one of the most famous acoustic guitar instrumental songs of all time – just watch the video above to see and hear why!
4. Billy Strings – Dust In A Baggie
Billy Strings is one of the young up and comers of the bluegrass flatpicking guitar world. But make no mistake – he has the talent to roll and play with the best of them. Billy has a unique, fast-paced style that is an amalgam of many of the bluegrass greats named elsewhere on this list. In particular, key influences for him were Doc Watson and Tony Rice.
5. Eric Clapton – Layla (Unplugged)
Eric Clapton is most well known for his blazing electric blues and rock guitar playing. However, his Unplugged album shows off his skills with fingerstyle playing on the acoustic guitar. Check it out to see a more mellow soulful side of Clapton's playing.
6. Stevie Ray Vaughan – Pride And Joy Acoustic
Stevie Ray Vaughan is renowned as one of the best electric blues guitarists of all time. However, the clip above shows that he is equally at home on the acoustic guitar. He tackles one of his most popular songs "Pride and Joy" and plays a killer acoustic guitar solo with bluesy swagger.
7. Tommy Emmanuel – Classical Gas
Tommy Emmanuel blends classical, folk, and jazz influences in his masterful performance on this tune. The whole song is a testament to his ability to play multiple styles, and comfortably blend many different techniques on the acoustic guitar.
8. Molly Tuttle – White Freightliner
Molly Tuttle is a talented guitarist and songwriter deeply rooted in the bluegrass tradition. She was the first woman to win the International Bluegrass Music Association's Guitar Player of the Year award – both in 2017 and then again in 2018. She's also been named the Americana Music Association's Instrumentalist of the Year.
9. Tony Rice – Last Thing On My Mind
This is Tony Rice's take on a Tom Paxton classic. In addition to the melody and beautiful singing, Tony performs an incredible solo about halfway through the song.
10. Dan Tyminski – Man of Constant Sorrow
Man of Constant Sorrow brought bluegrass music to a much wider audience when it was included prominently in the classic movie O Brother Where Art Thou?, starring George Clooney. This popular version of the song is sung by Dan Tyminsky, one of my favorite singers and players in the "newer wave" of bluegrass music.
Ready to Get Better at Guitar, Faster?
Whenever you're ready to take your guitar playing to the next level, check out my favorite resources below:
Best Strings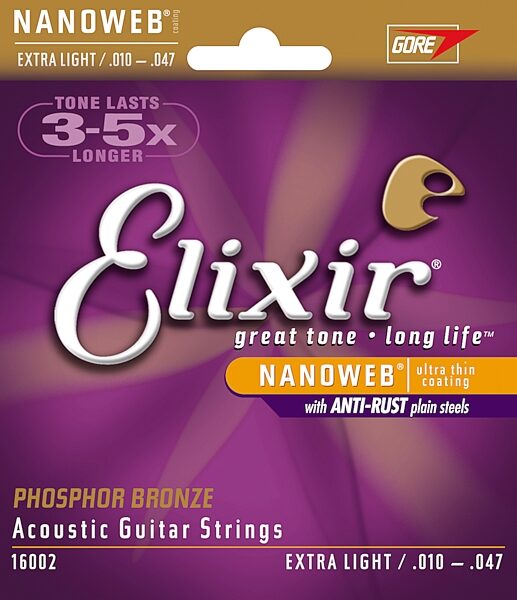 Elixir Nanoweb Acoustic Guitar Strings
Unique polymer coating allows strings to last for months or years at a time, making for an exceptional value.
Provide the perfect mix of boom, range, twang, and brightness that acoustic music is known for.
Best Guitar

Martin D-18
Beloved by everyone from Paul Simon to Gordon Lightfoot, the D-18 is one of Martin's most legendary guitars ever.
An excellent, premier quality acoustic guitar for bluegrass, country, folk, rock and more. This is what I play myself.
Free Guide
Chords, Tabs & Lessons for 100 Songs
This free guide from Acoustic World gives you chords, tabs, and video lesson for the 100 best songs to learn on guitar.
I spent hours putting this together all by myself to help you get better at guitar, faster!
Free Book
Fingerpicking vs Flatpicking Guitar
Learn which picking style is right for YOU by exploring examples, history, and popular players of each style.
Discover essential techniques and pros and cons of each approach.