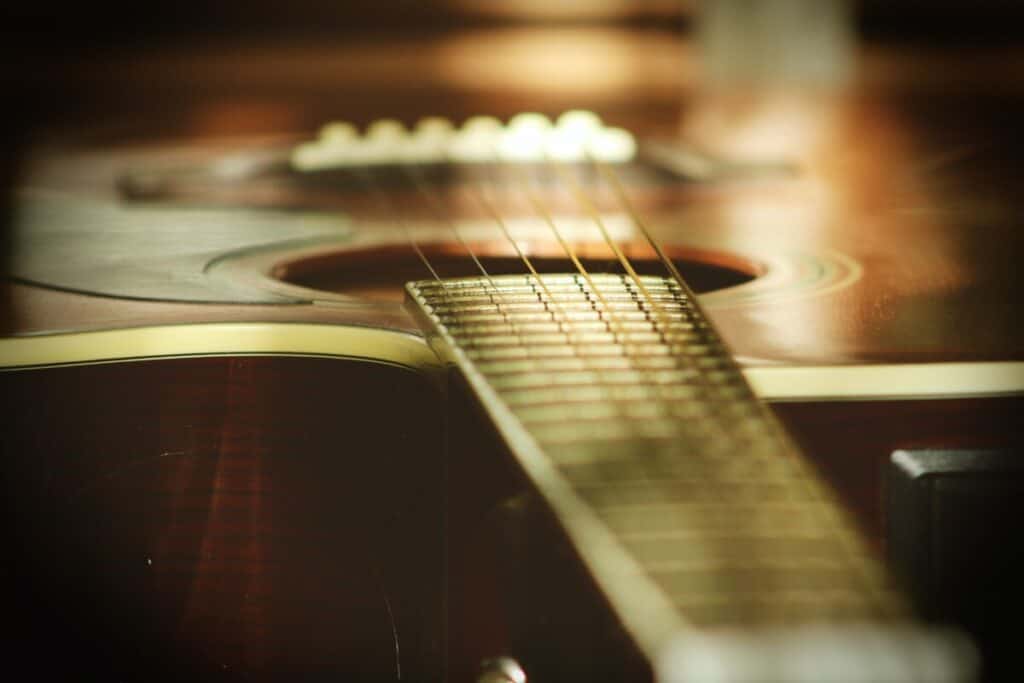 The Tonewood Amp system claims to allow acoustic guitarists to get amplifier-type effects without the use of a traditional amplifier. Instead, all guitarists need is the Tonewood Amp and any electro-acoustic guitar.
Because the Tonewood Amp system is so different from any kind of traditional amplifier set up, a lot of guitarists have many questions about how Tonewood Amps work, and whether a Tonewood Amp is worth the price (you can check the price here on Amazon).
So, is the Tonewood Amp Worth It?
It depends what you're looking for. The Tonewood Amp provides a simple way to add effects like reverb and delay to your acoustic guitar. If however, you're looking to get the benefits of an amplifier (like more sustain and volume), you'd be better off simply looking into a traditional amplifier setup.
Let's take a closer look at the Tonewood Amp by answering some other common questions.
How does the ToneWood Amp work?
The ToneWood amp attaches to the back of any acoustic guitar. The ToneWood amp will work with both steel string and Nylon string (classical style) guitars.
You can find a bunch of great demos of the ToneWood amp on YouTube. Here's one the guys from Anderton's helped do:
Part of the appeal of the ToneWood amp is its easy installation. It requires no tools to install the device, and it also leaves no permanent effect on your instrument. It can be easily detached or re-attached to the guitar after its initial installation.
Does the ToneWood Amp increase volume?
The ToneWood Amp can increase volume, but only slightly. The official ToneWood website has this to say about the ToneWood Amp volume:
When set up correctly, it will add approximately 3-9 db of volume. The actual increase in volume will depend on which effect you are using, how it is configured, and your playing style.
So while the ToneWood amp can increase acoustic guitar volume, this is not the main purpose of the device. Instead, the ToneWood Amp is meant to be used for its ability to add effects to the instrument. Let's take a look at those effects:
ToneWood Amp Effects
The main appeal of the ToneWood amp is that it allows you to add effects to your acoustic guitar in a much less complicated way than other methods. Normally, you'd have to use complicated audio interfaces, or an array of different effect pedals to achieve acoustic guitar effects.
The ToneWood amp simplifies this process immensely.
ToneWood Amp Problems & Complaints
The main problem most people have with the ToneWood Amp results from them thinking it works like a traditional amplifier – by amplifying the sound and volume of the instrument. As I mentioned earlier, this is not the case.
The ToneWood Amp website again makes this clear:
The ToneWoodAmp is designed to augment the natural tone of your instrument with multiple effects, like those achievable through the use of pedals and an amplifier, without requiring being tethered to such devices.
That said, it's easy to see why many players are confused into thinking the ToneWood Amp offers a volume increase like a traditional amp (it's most likely due to the name… ToneWood Amp).
Bottom Line | Is A ToneWood Amp Worth It?
If you're looking for a way to achieve unique effects without a volume boost and without needing an amplifier and pedals, the ToneWood Amp may be the perfect solution for you. You can grab one here off of Amazon.
However, if you're seeking to boost the volume of you're guitar, you're better off looking into mics, acoustic guitar pick-ups, acoustic amps, or other traditional ways of boosting your guitar's volume.
Ready to Get Better at Guitar, Faster?
Whenever you're ready to take your guitar playing to the next level, check out a few of my favorite resources below:
The Best Acoustic Guitar Strings – A unique polymer coating makes these guitar strings last for months or even years at a time, making for an exceptional value. They provide the perfect mix of boom, range, twang, and brightness that acoustic music is known for. — CLICK HERE TO LEARN MORE
The Best Acoustic Guitar – Beloved by everyone from Paul Simon to Gordon Lightfoot, the Martin D-18 is one of Martin's most legendary guitars ever… It's an excellent, premier quality acoustic guitar for bluegrass, country, folk, rock and more. This is also what I play myself — CLICK HERE TO LEARN MORE
Chords, Tabs & Video Lessons for 100 Epic Songs – This free guide that I created for fellow guitarists gives you chords, tabs, and video lessons for the 100 best songs to learn on guitar… I spent many hours putting this guide together to help you get better at guitar, faster. — CLICK HERE TO GET IT FREE
Fingerpicking vs Flatpicking Guitar – Learn which picking style is right for YOU by exploring examples, history, and popular players of each style. Discover essential techniques and pros and cons of each approach. — CLICK HERE TO GET IT FREE