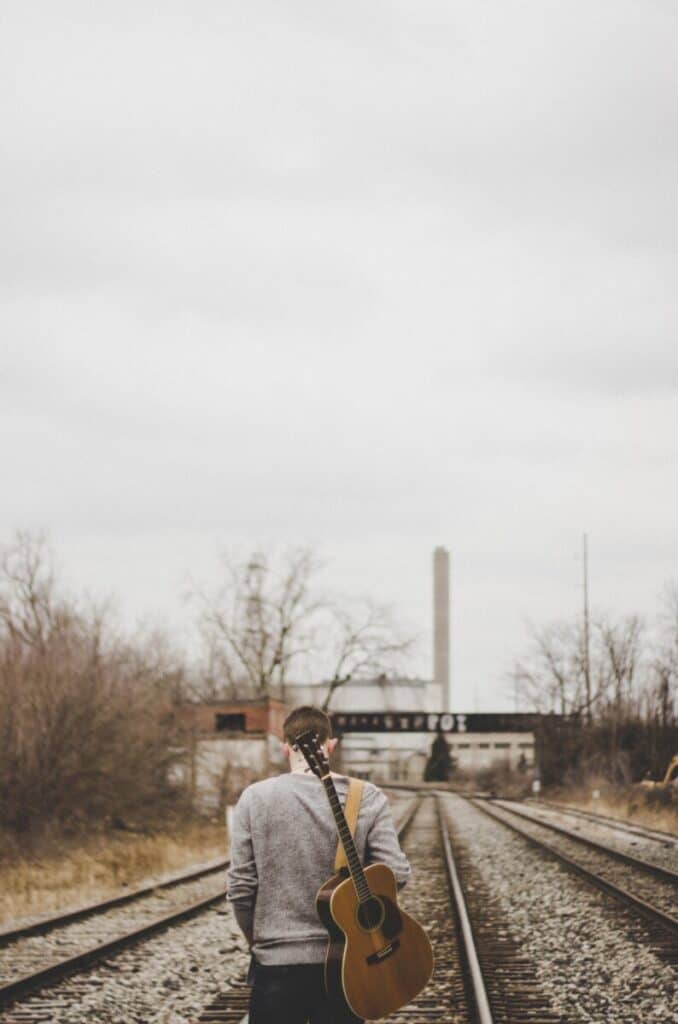 Believe it or not, learning guitar actually isn't that difficult. But the important thing to understand is how to go about learning guitar.
There are a lot of choices to make when first starting: acoustic or electric? In person or virtual lessons? I'll discuss all of these below.
But in order to determine how you should best start learning the guitar, I recommend you ask yourself the following question to make sure you start off headed in the right direction.
What Type of Guitarist do You Want to Become?
If you're wondering how you should go about learning guitar, the first thing you need to identify is which type of guitarist you're aiming to become. How you learn the guitar depends heavily on the type of guitarist you want to be. 
For instance, if you're more interested in becoming a campfire guitarist than a solo shredder, learning guitar can actually be quite easy. To play campfire-type songs on the guitar, you mostly just need to have an arsenal of basic chords that are featured in many songs- not much fingerpicking technique is required. 
If you're hoping to become a stylistic guitarist, you'll need a bit more technique. For instance, if you want to learn blues guitar, you'll need to become familiar with the scales and rhythm of the strumming, and fingerpicking skills are an absolute must. 
Now that you've thought a little bit about what type of guitarist you'd like to become, let's take a look at some other factors that can affect how you should approach your guitar learning experience. 
Should You Learn Acoustic or Electric Guitar?
Playing an acoustic guitar versus an electric guitar provides two entirely different experiences. 
Acoustic guitars are a little more difficult to actually play than electric guitars. With acoustic guitars, you end up having to hold down the strings a little harder than you would on electric guitars to produce the same sound. However, many believe that starting acoustic is the best choice because playing electric becomes far easier if you're familiar with acoustic. 
Electric guitars, on the other hand, may be easier to actually play, but they usually come with a set of necessary accessories like an amp, a looper, or more to supplement the experience. The technique might not be as hard, but getting familiar with all the required equipment can be a learning curve. 
I actually think the acoustic guitar offers some unique benefits over the electric. You can read all about them in my blog post here.
Should You Learn on a Cheap Guitar or a High-Quality One?
Using a cheap guitar to start out is by no means a deal-breaker; in fact, this is how almost every single guitarist begins their guitar-learning journey. High-quality guitars are made for ease of use, however, if you're using a cheap guitar to begin with, there can be some added complications. 
Cheap guitars can be extremely difficult to tune. This means you might spend a lot of time tuning it back to the right level during sessions, which can be frustrating. You can help mitigate this effect by making sure you're playing on new, high-quality strings, no matter how cheap your guitar is. 
Should You Learn Guitar Online or Take In-Person Guitar Lessons?
Using free guitar-learning resources available on the internet is a fantastic, budget-savvy way to learn guitar without dropping hundreds on one-on-one guitar lessons- something many of us simply can't afford. There are things you should be aware of, however, to make sure your experience learning online goes as smoothly as possible. 
Guitar lessons are often one-on-one with an instructor, meaning you have the full attention of your instructor to correct any mistakes you're making and to learn how to hold the instrument properly as you play. They can answer specific questions you may have on the spot as well. 
How Much Should You Practice Guitar?
I recommend guitarists practice every single day. Here's a post where I detail all the benefits of playing every day.
If you're dedicating the time to practice every day, you'll be able to learn, no matter if you're using a cheap guitar or learning online. However, be aware of the fact that certain things can affect your experience so you can avoid burnout and frustration.
Ready to Get Better at Guitar, Faster?
Whenever you're ready to take your guitar playing to the next level, check out a few of my favorite resources below:
The Best Acoustic Guitar Strings – A unique polymer coating makes these guitar strings last for months or even years at a time, making for an exceptional value. They provide the perfect mix of boom, range, twang, and brightness that acoustic music is known for. — CLICK HERE TO LEARN MORE
The Best Acoustic Guitar – Beloved by everyone from Paul Simon to Gordon Lightfoot, the Martin D-18 is one of Martin's most legendary guitars ever… It's an excellent, premier quality acoustic guitar for bluegrass, country, folk, rock and more. This is also what I play myself — CLICK HERE TO LEARN MORE
Chords, Tabs & Video Lessons for 100 Epic Songs – This free guide that I created for fellow guitarists gives you chords, tabs, and video lessons for the 100 best songs to learn on guitar… I spent many hours putting this guide together to help you get better at guitar, faster. — CLICK HERE TO GET IT FREE
Fingerpicking vs Flatpicking Guitar – Learn which picking style is right for YOU by exploring examples, history, and popular players of each style. Discover essential techniques and pros and cons of each approach. — CLICK HERE TO GET IT FREE