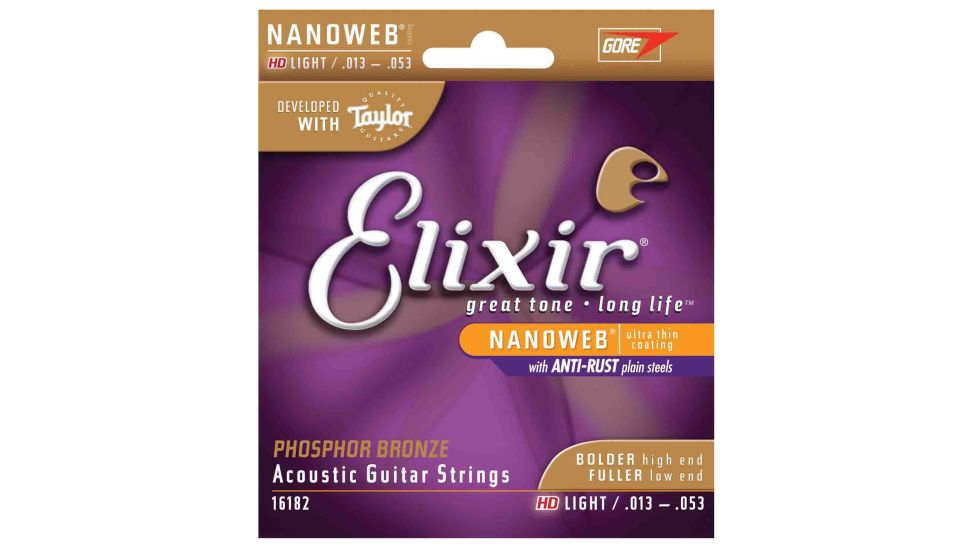 Elixir strings are one of the most popular brands of guitar strings on the market today. They are known for their unique coating, and for their ability to last longer than uncoated guitar strings.
But, how long can elixir guitar strings last?
Depending on how much you play, elixir strings can hold their tone for six to nine months, or even longer.
But don't just take my word for it. Below I have some video evidence for how long elixir strings can last for. I also discuss the best elixir guitar strings for acoustic guitar and electric guitar
How Do Elixir Guitar Strings Sound After 1 Year?
Below, I discuss my experience with elixir guitar strings and play my Martin D18, which at the time had elixir nanoweb strings on it that were over a year old. You can hear that the elixir strings held their tone quite well even after over a year of being on the acoustic guitar:
Marty Schwartz did a similar video where he plays a Martin D28 with elixir strings that are over 5 years old. Even with this very excessive amount of time, the strings still sound quite good, as you can hear:
The Best Elixir Guitar Strings for Acoustic Guitar
Are you looking to pick up some elixir strings for yourself and take advantage of the awesome long-lasting capabilities? Good on you! There are several different kinds to choose from.
For acoustic guitar, I personally use and recommend the nanoweb series (on Amazon). That's what I'm playing in my video above, and pretty much exclusively what I use on my acoustic guitars.
The nanowebs are the best elixir guitar strings for acoustic guitar because I find I can get at least 6 months out of them, and over a year if I really push it (aka: if I'm really lazy).
The Best Elixir Guitar Strings for Electric Guitar
For electric guitar, I also recommend the elixir polyweb strings (on Amazon). The polyweb coating helps the strings last very long but is not so thick that it makes the strings overly slippery. It's a perfect in between that I think most electric guitarists will enjoy.
What Are The Differences Between The Different Kinds of Elixir Strings?
Just to be clear, elixir makes nanoweb, optiweb and polyweb strings. The main difference is in the type and amount of coating they apply to the string.
I have a full article where I discuss the differences between optiweb, polyweb, and nanoweb strings.
You can read it here to learn more.
Ready to Get Better at Guitar, Faster?
Whenever you're ready to take your guitar playing to the next level, check out my favorite resources below:
Best Strings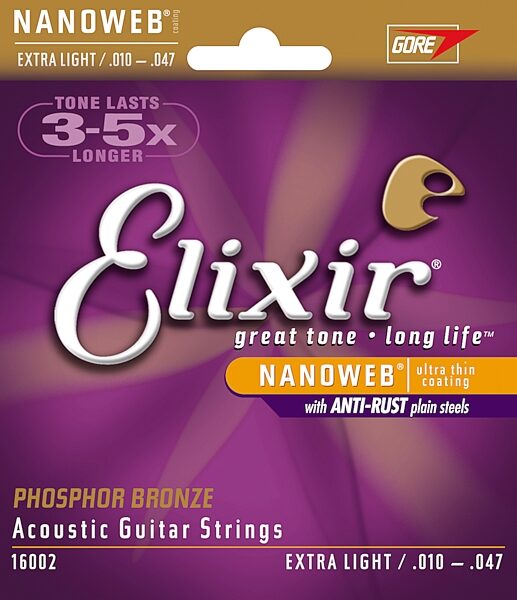 Elixir Nanoweb Acoustic Guitar Strings
Unique polymer coating allows strings to last for months or years at a time, making for an exceptional value.
Provide the perfect mix of boom, range, twang, and brightness that acoustic music is known for.
Best Guitar

Martin D-18
Beloved by everyone from Paul Simon to Gordon Lightfoot, the D-18 is one of Martin's most legendary guitars ever.
An excellent, premier quality acoustic guitar for bluegrass, country, folk, rock and more. This is what I play myself.
Free Guide
Chords, Tabs & Lessons for 100 Songs
This free guide from Acoustic World gives you chords, tabs, and video lesson for the 100 best songs to learn on guitar.
I spent hours putting this together all by myself to help you get better at guitar, faster!
Free Book
Fingerpicking vs Flatpicking Guitar
Learn which picking style is right for YOU by exploring examples, history, and popular players of each style.
Discover essential techniques and pros and cons of each approach.