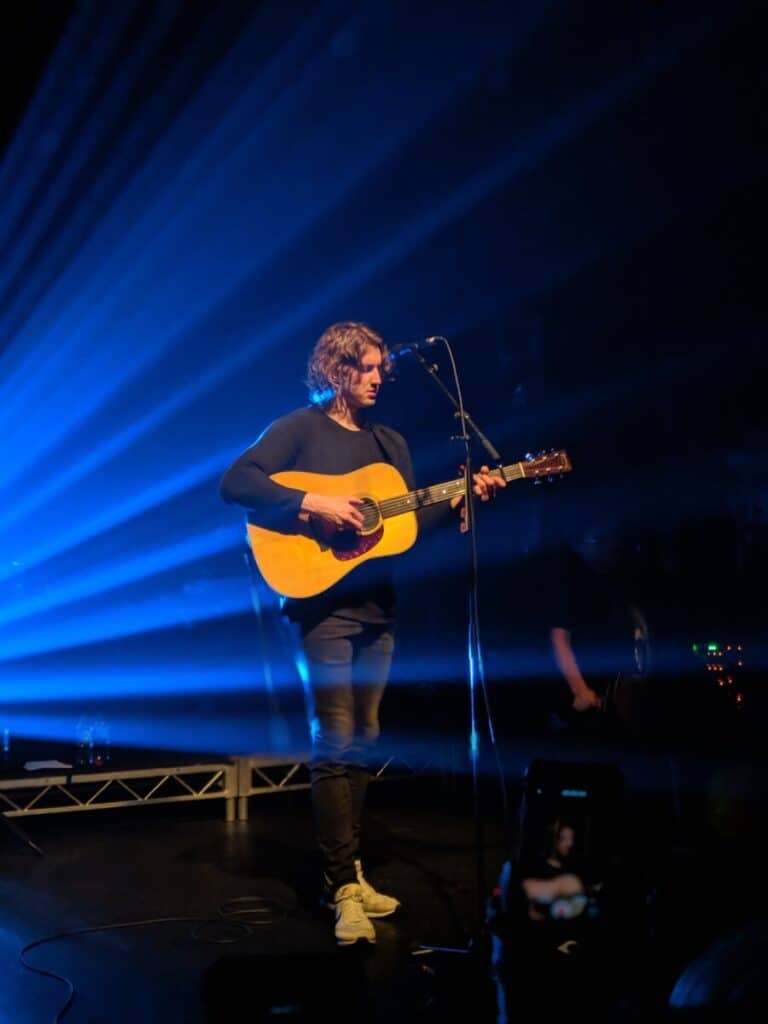 Many guitarists seem to think you have to specialize at either rhythm guitar or lead guitar, but there is another option: playing rhythm and lead guitar at the same time.
But wait: is that even possible? How would it work? Why haven't I heard of it?
Yes, you can play rhythm and lead guitar at the same time. In fact, many famous guitarists are masters of this approach.
To help you out (and prove to you that it's possible), I put together the list below, featuring the best guitarists at weaving in and out of lead and rhythm, combining both approaches to reach guitar mastery.
But first, let's look at a prime example of playing lead and rhythm guitar at the same time.
An example of playing both lead and rhythm guitar
When it comes to combining lead and rhythm guitar together, Eric Johnson is one of the best. In his intro and his solos throughout this leave performance of his song "Cliffs of Dover," you can see Johnson masterfully blend chords and rhythm playing into his lead guitar soloing. Check it out below.
Guitarists who played lead and rhythm at the same time
The following are some more examples of guitarists who were absolute masters at combing lead and rhythm approaches in their guitar playing.
Jimi Hendrix
Stevie Ray Vaughn
Wes Montgomery
Eric Johnson
Steve Vai
Al DiMeola
Chet Atkins
Tony Rice
George Benson
Eddie Van Halen
Merle Travis
Mark Knopfler
Roy Clark
John Frusciante
John Mayer
How to listen to these guitarists for free
If you want to listen to these guitarists play rhythm and lead guitar at the same time, I really recommend doing so with Amazon Music Unlimited. If you simply sign up for their free trial, you get access to over 60 million songs completely free – and you can listen anytime, anywhere. It's a great way to enjoy some awesome guitar playing. You can check out the free trial here.
How to play rhythm and lead guitar at the same time
If you yourself want to master this unique blending of rhythm and lead, here's the best way to go about it. You should learn each style, but go through periods where you're more intensively focused on one moreso than the other.
For example: the next three months I'm going to really focus on my rhythm playing, chord changes, bass walk-downs, etc etc.
Then after that, switch back to focusing on lead-oriented guitar playing.
If you keep using this approach, you'll develop comfortability and familiarity across both styles, and they'll start to blend seamlessly, just as they do in the guitar players listed above.
Good luck, and happy picking!
Ready to Get Better at Guitar, Faster?
Whenever you're ready to take your guitar playing to the next level, check out a few of my favorite resources below:
The Best Acoustic Guitar Strings – A unique polymer coating makes these guitar strings last for months or even years at a time, making for an exceptional value. They provide the perfect mix of boom, range, twang, and brightness that acoustic music is known for. — CLICK HERE TO LEARN MORE
The Best Acoustic Guitar – Beloved by everyone from Paul Simon to Gordon Lightfoot, the Martin D-18 is one of Martin's most legendary guitars ever… It's an excellent, premier quality acoustic guitar for bluegrass, country, folk, rock and more. This is also what I play myself — CLICK HERE TO LEARN MORE
Chords, Tabs & Video Lessons for 100 Epic Songs – This free guide that I created for fellow guitarists gives you chords, tabs, and video lessons for the 100 best songs to learn on guitar… I spent many hours putting this guide together to help you get better at guitar, faster. — CLICK HERE TO GET IT FREE
Fingerpicking vs Flatpicking Guitar – Learn which picking style is right for YOU by exploring examples, history, and popular players of each style. Discover essential techniques and pros and cons of each approach. — CLICK HERE TO GET IT FREE