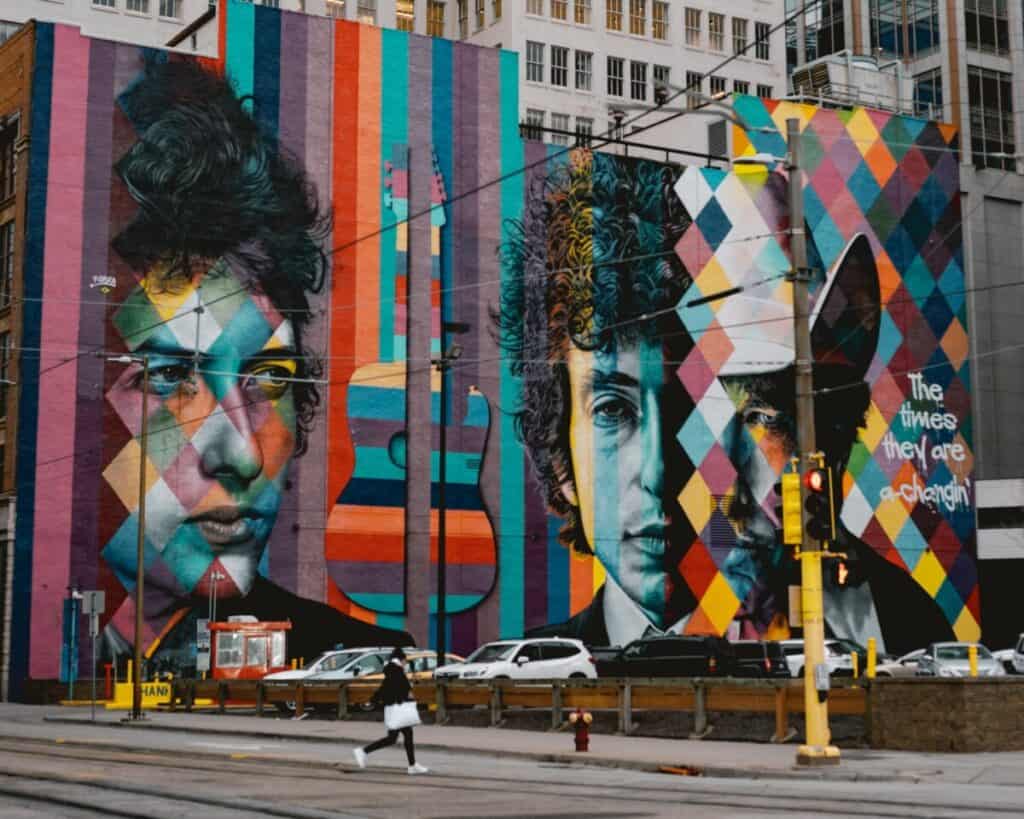 Bob Dylan is one of the most legendary singers and songwriters of the 20th century. He was even awarded The Nobel Prize in Literature in 2016 "for having created new poetic expressions within the great American song tradition."
For anyone looking to revisit Bob Dylan's classic albums, you have a lot of great choices. Each has a slightly different feel and specific things to love, but below are his 5 best in my opinion.
While any ranking is obviously going to be subjective, I did my best to rank each album in terms of its number of great songs, songwriting prowess, and overall enjoyability.
I hope you enjoy this list of Bob Dylan's five best albums, complete with reviews and rankings!
5. Nashville Skyline
Listen to the full album (on Amazon)
Nashville Skyline is Bob Dylan's ninth studio album, released on April 9, 1969, by Columbia Records.
Building on the rustic style he experimented with on John Wesley Harding, Nashville Skyline displays a complete immersion into country music – a style most people don't associate Dylan with.
Along with the more basic lyrical themes, simple songwriting structures, and charming domestic feel, the album introduced audiences to a radically new singing voice from Dylan, who had temporarily quit smoking — giving him a soft, affected country croon.
"Our generation owes him our artistic lives," observed Kris Kristofferson, who later sang with Cash in The Highwaymen, "because he opened all the doors in Nashville when he did Blonde on Blonde and Nashville Skyline. The country scene was so conservative until he arrived. He brought in a whole new audience. He changed the way people thought about it – even the Grand Ole Opry was never the same again."
Nashville Skyline went on to become one of Dylan's best-selling albums. Three singles were pulled from it, all of which received significant airplay on AM radio.
4. The Times They Are a-Changin'
Listen to the full album (on Amazon)
The Times They Are a-Changin' was Dylan's third studio album. This album was unique because it was the first to feature entirely original compositions, whereas Dylan's previous albums had plenty of cover material.
The album consists mostly of stark, sparsely arranged ballads concerning issues such as racism, poverty, and social change. The title track is one of Dylan's most famous; many feel that it captures the spirit of social and political upheaval that characterized the 1960s.
Some critics and fans were not quite as taken with the album as a whole, relative to his previous work, for its lack of humor or musical diversity.
Still, The Times They Are a-Changin' peaked at No. 20 on the US chart, eventually going gold, and belatedly reaching No. 4 in the UK in 1965.
3. Freewheelin' Bob Dylan
Listen to the full album (on Amazon)
Dylan's second studio album represents the beginning of his writing contemporary words to traditional melodies. Eleven of the thirteen songs on the album are Dylan's original compositions.
Freewheelin' opens with "Blowin' in the Wind", which became an anthem of the 1960s, and an international hit for folk trio Peter, Paul and Mary soon after the release of the album.
The album features several other songs which came to be regarded as among Dylan's best compositions and classics of the 1960s folk scene.
Favorites include:
"Girl from the North Country"
"Masters of War"
"A Hard Rain's a-Gonna Fall"
"Don't Think Twice, It's All Right"
Dylan's lyrics embraced news stories drawn from headlines about the Civil Rights Movement and he articulated anxieties about the fear of nuclear warfare.
Balancing this political material were love songs, sometimes bitter and accusatory, and material that features surreal humor.
Freewheelin' showcased Dylan's songwriting talent for the first time, propelling him to national and international fame. The success of the album and Dylan's subsequent recognition led to his being named as "Spokesman of a Generation", a label Dylan repudiated.
2. Highway 61 Revisited
Listen to the full album (on Amazon)
Highway 61 Revisited is unique because Dylan – a notorious acoustic artist – used rock musicians as his backing band on every track of the album, except for the closing track, the 11-minute ballad "Desolation Row".
Critics have focused on the innovative way Dylan combined driving, blues-based music with the subtlety of poetry to create songs that captured the political and cultural chaos of contemporary America.
Author Michael Gray even argued that, in an important sense, the 1960s "started" with this album.
Leading with the hit song "Like a Rolling Stone", the album features songs that Dylan has continued to perform live over his long career, including "Ballad of a Thin Man" and the title track.
He named the album after the major American highway which connected his birthplace of Duluth, Minnesota, to southern cities famed for their musical heritage, including:
St. Louis
Memphis
New Orleans
The Delta blues area of Mississippi.
Positively received on release, the album has since been described as one of Dylan's best works and among the greatest albums of all time, ranking No. 18 on Rolling Stone's "500 Greatest Albums of All Time".
1. Blood on the Tracks
Listen to the full album (on Amazon)
Blood on the Tracks, Dylan's fifteenth studio album, initially received mixed reviews, but has subsequently been acclaimed as one of Dylan's greatest albums by both critics and fans.
The songs have been linked to tensions in Dylan's personal life, including his estrangement from his then-wife Sara. One of their children, Jakob Dylan, has described the songs as "my parents talking".
The album is considered an outstanding example of the confessional singer-songwriter's craft, having been called "the truest, most honest account of a love affair from tip to stern ever put down on magnetic tape".
In interviews, Dylan has denied that the songs on the album are autobiographical.
Addressing whether the album described his own personal pain, Dylan replied that he didn't write "confessional songs".
However, on the live At Budokan album, Dylan seems to acknowledge the autobiographical nature of the song "Simple Twist of Fate" by introducing it as "Here's a simple love story. Happened to me."