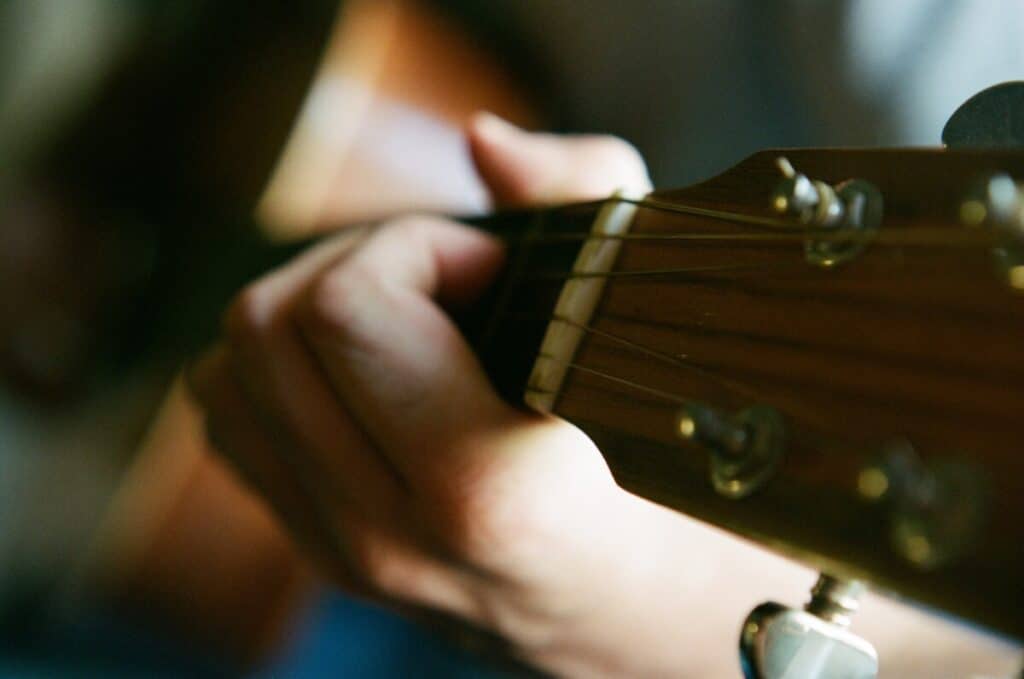 Orangewood guitars are becoming more and more popular. That said, because they are a relatively smaller company, many players wonder: Are Orangewood Guitars Any Good?
Yes, Orangewood Guitars are a high quality, yet affordable alternative to many of the mainstream acoustic guitar brands on the market.
That said, because Orangewood guitars are still coming on the scene, many people have other questions as well. We'll address the other popular Orangewood Guitar questions below and help decide if an Orangewood Guitar would be good for you!
Let's get started.
Where are Orangewood Guitars Built & Made?
Orangewood Guitars are designed in Los Angeles, California. They have this to say on their own website:
"Our guitars are proudly designed by a team of musicians in Los Angeles, California — combining a simple modern design with timeless acoustic guitar shapes"
So why are Orangewood guitars so cheap? Well, the guitars are still eventually made in China. They are then setup in Los Angeles by the company's techs before being shipped out to the buyer. This helps them keep quality high and costs low for a great bargain guitar.
Who Makes Orangewood Guitars?
Orangewood was started by two brothers: Eddie and Sooj Park. These brothers moved to California from Korea in 2004. They both grew up as musicians, and noticed a need in the market for affordable yet high quality acoustic guitars.
Where to Buy Orangewood Guitars? Are They Sold Out?
You won't be able to find Orangewood Guitars at retail music stores. They only sell directly to their customers through their website. They explain this further on their FAQ page:
"We only sell our guitars directly to our customers online. Without any retail markup, we are able to keep our guitars more affordable."
For this reason, the best way to get an Orangewood guitar is from https://orangewoodguitars.com/
Can You Buy Orangewood Guitars in India, Canada, or Australia? Internationally?
Unfortunately, Orangewood only ships within the United States right now. However, it seems like they're working to change this. They say:
We currently only ship in the United States, but our team is working hard on expanding our service to other countries as well — stay tuned!
Do You Need to Set Up An Orangewood Guitar?
It's always a good idea to get a professional setup on a new guitar. This ensures the instrument is playing at its highest quality and fullest potential. You can learn more about why you may need a setup and how much they'll cost (and even how to get them for free!) in this article.
What Are Some Good Orangewood Guitar Alternatives?
Want similar quality, but a more "name brand" or familiar instrument?
Seagull Guitars are often around the same price point of most Orangewood Guitars, and tend to have a similar level of quality as well.
If you're interested, I really recommend the Seagull S6 (on Amazon), one of Seagull's original, award-winning models. The slim neck and solid-wood cedar top combine to make for incredible tone and playability.
You can learn more about the Seagull S6 and pick up a model quickly, and cheaply here on Amazon.
If you want to learn more about Seagull Guitars, I have a full article you can check out here.
Ready to Get Better at Guitar, Faster?
Whenever you're ready to take your guitar playing to the next level, check out a few of my favorite resources below:
The Best Acoustic Guitar Strings – A unique polymer coating makes these guitar strings last for months or even years at a time, making for an exceptional value. They provide the perfect mix of boom, range, twang, and brightness that acoustic music is known for. — CLICK HERE TO LEARN MORE
The Best Acoustic Guitar – Beloved by everyone from Paul Simon to Gordon Lightfoot, the Martin D-18 is one of Martin's most legendary guitars ever… It's an excellent, premier quality acoustic guitar for bluegrass, country, folk, rock and more. This is also what I play myself — CLICK HERE TO LEARN MORE
Chords, Tabs & Video Lessons for 100 Epic Songs – This free guide that I created for fellow guitarists gives you chords, tabs, and video lessons for the 100 best songs to learn on guitar… I spent many hours putting this guide together to help you get better at guitar, faster. — CLICK HERE TO GET IT FREE
Fingerpicking vs Flatpicking Guitar – Learn which picking style is right for YOU by exploring examples, history, and popular players of each style. Discover essential techniques and pros and cons of each approach. — CLICK HERE TO GET IT FREE