One question I get asked a lot of is whether a particular guitar brand is actually worth it or if it's simply overrated. When it comes to acoustic guitar, this question often gets asked about Martin guitars specifically.
If you're not familiar with them, Martin is essentially one of the most popular acoustic guitar brands of all time. It has been around for over 200 years making all kinds of acoustic guitars. They are actually based near where I grew up, in the Nazareth / Lehigh Valley area of northeastern Pennsylvania.
As such, I've toured the Martin factory and played the different guitars there, and met people who worked there multiple times, so I think I'm uniquely qualified to answer whether or not Martin guitars are worthwhile or overrated.
Full disclosure: I do personally own (and love) a Martin D18, so some would say that I am biased. However, below I do my best to objectively answer whether Martin guitars are worth it or overrated based on my experience with them and in comparison to other popular acoustic guitar brands (Taylor, Yamaha, etc).
So, Are Martin Guitars Worth It?
Yes, Martin guitars are very high quality instruments and are a great value. Martin is a legendary brand, renowned for producing some of the best acoustic guitars in the world. There's a reason Martin guitars are loved by folk guitarists, bluegrass players, singer-songwriters and more.
Their guitars are available worldwide and used by veteran musicians and some of the most skilled acoustic guitarists in the world (including everyone from Eric Clapton to Willie Nelson).
Overall, Martin guitars are a great value for intermediate-advanced guitar players who have enough experience to appreciate and utilize the quality of sound coming from the guitar. 
Why Are Martin Guitars More Expensive Than Most Guitars?
So Martin guitars are worth it – but why are they so much more expensive than some other brands out there?
Martin is a legacy brand: they have been around for over 200 years making high-quality instruments embraced by top players in the music industry. You are paying a slight premium for this brand quality and legacy – in the same way that you often pay more for a can of Coke than you would some non-name-brand soda.
In short: values in the guitar market are determined by history of the brand and quality of their product. Like many other things in life, you often get what you pay for.
Are Martin Guitars Handmade? 
Martin combines the best of both worlds: manual assembly (ie, man-made labor) and CNC machines (tools).
The handmade component and the time that goes into producing each particular guitar is part of what determines Martin's higher price points.
Generally, less expensive guitars use more automation during their production process, including building and assembly.
Is a Martin Guitar's Sound Quality Worth the Price?
Three key factors will determine the price and sound quality of an acoustic guitar:
brand reputation.
quality of materials used.
and the quality of labor.
Three of the most important materials used to make a Martin guitar are the solid wood itself, high pressure laminates, and the wood veneer. 
HPL or high pressure laminates are a type of laminate material used to make the guitar more durable and less expensive compared to guitars made from solid wood. Others argue that laminates can be more rigid than solid woods and less resonant, which affects the sound and output.
Martin has embraced HPL materials and offer a number of models where some — or even all — of the back, sides, or top are made from HPL… However, HPL materials are usually reserved for Martin's cheaper models. For expensive and premier guitars like a D-18 or D-28, the preference is still for natural wood because of the richer tone it produces:
My Top Pick

Martin D-18
Beloved by everyone from Paul Simon to Gordon Lightfoot, the D-18 is one of Martin's most legendary guitars ever.
An excellent, premier quality acoustic guitar for bluegrass, country, folk, rock and more.
Another type of important guitar material is the wood veneer. 
Most times, a guitar's exterior (the veneer) is made using expensive woods and the interior with less expensive woods for stability. 
The more expensive woods retain their aesthetics but at the detriment of higher cost.  
For instance, there are Martin guitars made with koa veneer but with a core made out of African Mahogany. 
The alternative to this are guitars made from a completely solid wood. These are the most expensive, and produce the highest quality sound.
These are some of the most important factors you have to keep in mind when deciding the price, sound quality, wood and construction of a Martin guitar or any other guitar you are considering.
What Are The Special Materials Used By Martin Guitar? 
There are some unique and special materials and building practices used by Martin which result in such a high quality instrument. These things are tend to raise the price point of the end product.
For example, Martin guitars use "Quartersawn" processed wood:
This is a unique way of cutting woods into planks to create a sturdy and durable result. But, it consumes more time, making it more expensive.
High end Martin guitars also use a special material known as hide glue. Hide glue is a natural glue used that dates all the way back to ancient times.
Hide glue strongly joins the guitar joints, and many players believe that it improves the resonating power of an acoustic guitar. 
In addition to its traditional construction, Martin also includes some modern materials in their guitar production process. 
For example, the Martin Modern Deluxe series uses a titanium truss rod to improve neck stability and a carbon fiber bridge plate on bridge pins for added volumes.

Another unique process is Martin's "vintage tone systems." Ideally, this process involves the artificial aging of the tonewood and manually applying lacquer for the new guitar to have similar tonal quality to an older guitar (old Martin's are the gold standard of acoustic tone).
Are Martin Guitars US-made? 
The majority of Martin guitars are USA-made. However, the models sold under $1000 are made in Mexico. This allows the company to offer a range of price points.
What's the Best Martin Guitar for the Money?
I want to personally recommend the model of Martin that I own, which is the Martin D-18.
It's a beautiful guitar that plays better than any other acoustic I've ever even touched – there's been no going back to anything else since I've owned it.
Say hello to my favorite acoustic guitar:
My Top Pick

Martin D-18
Beloved by everyone from Paul Simon to Gordon Lightfoot, the D-18 is one of Martin's most legendary guitars ever.
An excellent, premier quality acoustic guitar for bluegrass, country, folk, rock and more.
Martin guitars are extremely versatile – having been used by everyone from John Prine to Tony Rice to Johnny Cash and everyone in between.
The mahogany back and sides of the Martin D-18 ensure incredible volume and sustain, making it an awesome guitar for playing acoustic leads and licks, and for all-around flatpicking.
I recommend getting the Martin D-18 from Amazon to ensure the best price, and the fastest and cheapest shipping options.
What's the Best Martin Guitar for Beginners & Under $1000?
Looking for a budget-friendly, road-friendly, or beginner-friendly Martin guitar?
In that case, look no further than the Martin D-10E.
The Martin D-10E is a workhorse dreadnought acoustic-electric designed with the cost-conscious traveling guitarist in mind:
#1 Budget-Friendly Pick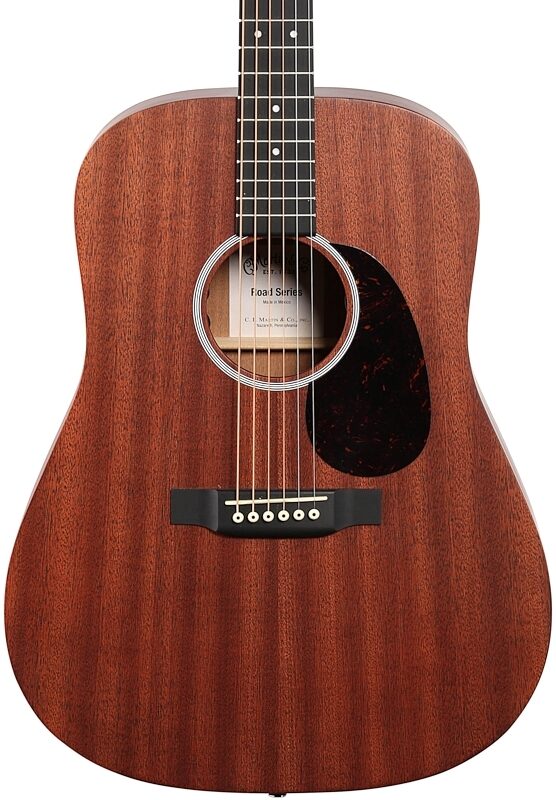 Martin D-10E
Crafted from premium solid tonewoods with X bracing for resonance
Features Fishman MX-T electronics with a handy soundhole tuner built in (great for those seeking an Acoustic-Electric).
Martin and Co. know that you wouldn't want to take your most prized guitar out on the road. So since 2001, Martin has offered its Road Series to serve that very purpose.
They designed their D-10E acoustic-electric guitar with some alternative materials to keep it durable and affordable while maintaining the traditional, comfortable feel and rich tonal clarity you'd expect from a Martin guitar.
Is a Used Martin Guitar Worth It? 
Another option is acquiring a used Martin guitar from another player or owner.
However, you need to do your homework before jumping into this.
First off, you need to do some research to confirm the real value of the instrument. This is easily done online to understand the market value of the specific Martin model you're considering.
After considering the asking price, you should test the instrument if possible and ideally compare it to other instruments in a similar price range. You can easily do this in a music shop, but it can be trickier to do if you're trying to strike a deal with an individual off Facebook or Craiglist, for example.

Finally, whenever you're considering a used instrument, make sure you check the seller's reputation and their return policies.
Are Martin Guitars a Good Investment? 
Are Martin guitars an investment – like a fine wine or a Rolex?
This ultimately comes down to your definition. Martin guitars do tend to hold their value as they age, as they are a renowned brand.
Overall, though, it's probably more helpful to think of your Martin guitar just as a musical instrument rather than a strategic asset or investment.
Where's the Best Place to Get a Martin Guitar?
If you've read this far, you've probably decided that Martin guitars are well worth it, and not overrated. In fact, they are some of the very best acoustic guitars ever made.
If you're interested in a Martin guitar, I recommend touring the Martin factory and playing the guitars in-person to discover which Martin guitar is best for you.
However, if that's not an option, I recommend researching the different Martin guitar models that you're interested in online (I provide some more information about my favorite models – the D18 and D28 – in this post.)
I personally recommend getting a Martin guitar from Amazon to ensure the best price, and the fastest and cheapest shipping options.
What Are the Best Strings for a Martin Guitar?
My number one choice for acoustic strings for Martin guitars is Elixir's Nanoweb guitar strings.
These strings are coated with Elixir's famous Nanoweb technology. That means there is a thin polymer coating around the surface of the guitar strings, which gives them a smooth feel but more importantly allows them to last much longer.
Best Strings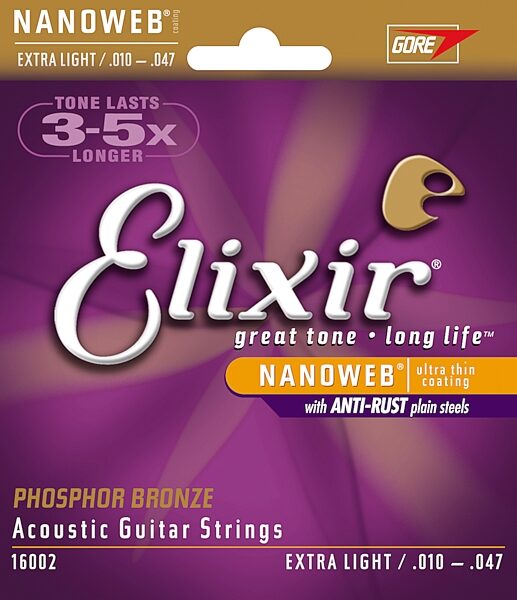 Elixir Nanoweb Acoustic Guitar Strings
Unique polymer coating allows strings to last for months or years at a time, making for an exceptional value.
Provide the perfect mix of boom, range, twang, and brightness that acoustic music is known for.
Elixir's Nanoweb guitar strings last for months at a time. In fact, as we'll see below, they often sound good after multiple years on the same instrument. And, most important of all, the nanoweb's have the perfect mix of boom, range, twang, and brightness that acoustic music is known for.