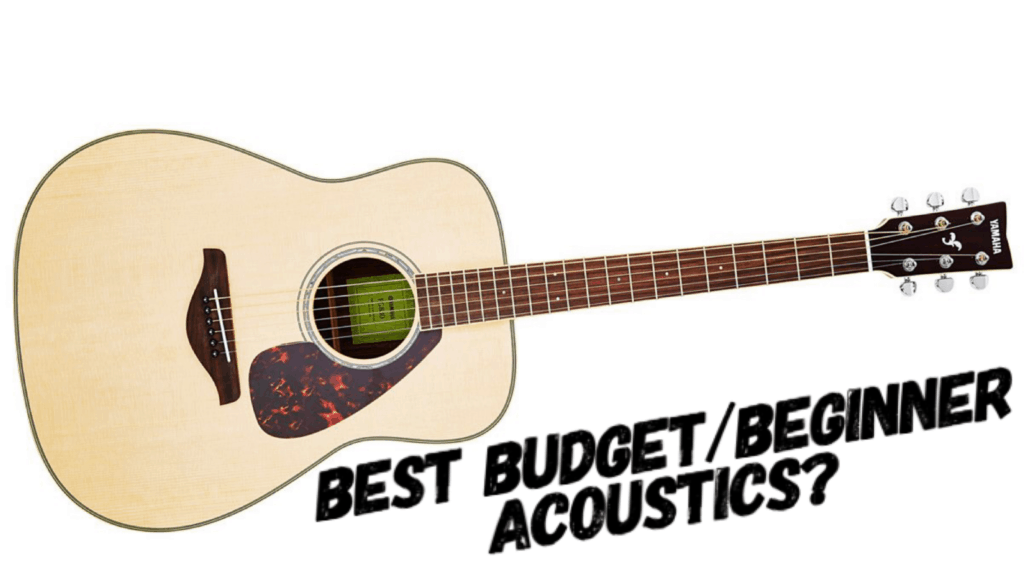 Are you a beginner guitar player, and wondering how to get the best acoustic guitar, but also stay within your budget? Or maybe you're a pretty experienced electric guitarist looking to transition into the world of acoustic guitars.
Either way, deciding how to choose your first acoustic guitar can be daunting. There are so many models to choose from these days. And with so many choices, you want to be sure that you're not only getting a high quality instrument, but also getting a great price.
I've been there – and I'm here to help. In this article we'll take a look at the best acoustic guitars for new players who are on a budget. We'll look at a variety of acoustic guitar brands, models, and price ranges, but all of them will be under $500 dollars.
Hopefully by the end of this article you'll have enough information to make a wise buying decision, and finally get the acoustic guitar of your dreams! Let's get started.
1. Ibanez AW54OPN Acoustic-Electric Guitar
Looking for a mahogany guitar at a killer price? It's hard to beat the Ibanez AW54CEOPN. This guitar is part of Ibanez's 'Artwood' series, and looking at it, it's easy to see why. It features a beautiful solid mahogany top – a true rarity in the world of budget acoustic guitars.
The 20 fret neck of the AW54CEOPN is also solid mahogany, and joined to the body of the guitar at the 14th fret. The body is a beautiful dark brown 'walnut' stained color, and is a classic dreadnought shape.
Ibanez AW54CEOPN Standout Specs:
Solid mahogany neck and body
Beautiful dreadnought shape and body color
Excellent Value
Combining looks, functionality, and price, the Ibanez AW54OPN is one of the best cheap mahogany guitars.
2. Ibanez V70CE Acoustic-Electric Guitar
The Ibanez V70CE is an excellent budget acoustic-electric guitar, and it comes in either a plain black, or very unique transparent blue finish. Since it's an acoustic-electric, this Ibanez guitar has some added versatility, and sounds nice whether it's plugged in or played acoustically.
Ibanez V70CE Standout Specs:
Unique finish options
Built in tuner and preamp
Cutaway style allows for easy access to higher frets
Good pricing for those on a budget
The top on this guitar is select spruce, and it features mahogany back and sides, and a rosewood fretboard. Another interesting bonus is that this guitar comes outfitted with an Ibanez AEQ-2T preamp with an onboard tuner. Having a built-in tuner makes comes in handy, and can help keep you in tune even if you forget an external tuner. This preamp does require a 9-volt battery, but one comes with the guitar.
3. Yamaha FX335C Dreadnought Acoustic-Electric Guitar
Yamaha also features a variety of great acoustic-electric guitars for beginner guitarists or those on a budget. Coming in under $300, the FX335C is one such guitar. In terms of quality, I'd say the Yamaha FX335C is one step above the The Ibanez V70CE.
This Yamaha model features a spruce top with nato back and sides. The cutaway dreadnought style body design allows for great volume as well as easy access to the upper registers of the rosewood fretboard.
Yamaha FX335C Standout Specs:
Built in Yamaha pickup and preamp
Cutaway style allows for easy access to higher frets
Tone and quality one step up from the Ibanez V70CE
The FX335C comes with a built-in Yamaha 1-way piezo pickup and preamp, meaning you can jam out unplugged or with an amplifier.
4. Yamaha FG830 Solid Top Folk Guitar
This was actually my very first acoustic guitar, so I'm a little bit biased here! But Yamaha's FG series has been around since 1966. The series was introduced with the vision of producing powerhouse acoustic guitars that didn't need to cost a fortune. The Yamaha FG830 lives up to this legacy.
Yamaha FG830 Standout Specs:
Booming low to mid range
Solid sitka spruce top
High quality wood, parts, and craftsmanship
Long legacy and history (over 50 years!) of quality and innovation
This acoustic guitar features a solid sitka spruce top, which produces a beautifully warm and complex tone. The 800 series is famous for its loud and strong sound in the low to mid ranges – meaning this guitar produces excellent volume and sustain.
The Yamaha FG830 combines top notch woods, excellent machine heads, and a wonderful fretboard to produce an excellent choice for the aspiring acoustic guitarist on a budget.
5. Martin LX1E "Little Martin" Acoustic-Electric Guitar
Martin Guitars are perhaps the most legendary manufacturer of acoustic guitars. The Martin LX1E or "Little Martin" is the smallest guitar they make, but what it lacks in size it more than makes up for in tone and playability.
The Martin LXIE features a solid sitka spruce top, mahogany back and sides, and a very attractive warm satin finish. It's size and versatility makes it a great budget acoustic guitar for travel, student practice, or jamming out around the campfire.
Martin LX1E Standout Specs:
Solid sitka spruce top
Martin quality and craftsmanship
Ideal for travel
Ideal for young guitarists, small hands, etc
The size of this guitar is actually an awesome advantage – it stows perfectly in your trunk or in overhead airplane compartments. It is one of the best guitars for air travel, or frequent travel in general. The shorter scale length also makes it ideal for young guitarists, or those with weak or small hands.
6. Fender CD-60S Dreadnought Acoustic Guitar
No list of guitars would be complete without including a standout Fender model. The CD-60S is Fender's take on a solid-spruce topped dreadnought guitar. This guitar's easy-to-play neck features comfortably rolled fingerboard edges, creating a satisfying fret-hand feel that both beginners and experienced guitarists can appreciate.
Fender CD-60s Standout Specs:
Solid spruce top
Comfortable rosewood fingerboard
Value bundle includes everything you need to get started
Comes with a gig bag
You can often find a full starter pack included with the CD-60s, which means you'll have everything you need to start playing instantly: picks, a strap, a gig bag, and an extra pack of strings. The guitar alone is great for its price, but this full bundle is an unbelievable value.
7. Fender CD-60SCE Dreadnought Acoustic-Electric Guitar
Looking for an acoustic-electric from Fender? The CD-60SCE has all the advantages of the CD-60S, but with the added versatility of onboard electronics, like the Fishman Classic Design pickup/preamp.
Fender CD-60SCE Standout Specs:
Solid spruce top
Comfortable rosewood fingerboard
Mahogany back and sides
Fishman Classic Design pickup/preamp
The guitar also has a nice aesthetic cutaway that allows you to easily access the upper frets of the fretboard. It has a wonderful rich tone, is easy to play and is beautiful to look at. The grain on the mahogany back and sides is dark and beautiful. Overall, the CD-60SCE is a great acoustic-electric guitar for beginners or guitarists on a budget.
8. Alvarez Artist Series AD30 Dreadnought Guitar
The Alvarez AD30 is the entry-level guitar in their beautiful and award winning Artist Series. Don't be fooled by the attractive budget-friendly price tag – despite its affordability, Alvarez did not compromise on the quality or craftsmanship of this guitar.
The Alvarez AD30 Standout Specs:
Solid spruce top
Hand-sanded, scalloped bracing
Dovetail neck joint
Excellent craftsmanship for the price
With hand-sanded, scalloped bracing, a dovetail neck joint, and solid 'A' grade Sitka spruce and cedar tops hand-selected from quarter-sawn wood, the Alvarez AD30 exudes quality at an unbelievable price. This is truly one of the best cheap acoustic guitars for the money.
9. Epiphone Hummingbird PRO Acoustic-Electric Guitar
The hummingbird was made famous by Rolling Stones guitarist Keith Richards. If you're looking for a guitar with legendary heritage, outstanding craftsmanship, and an incredible price, the Hummingbird PRO may just fit the bill.
Hummingbird PRO Standout Specs:
Solid spruce top
SlimTaper "D" Profile Neck makes for easy playing
A legendary piece of Rolling Stones history
Epiphone's new Shadow ePerformer preamp and Shadow NanoFlex pickup system mean that this guitar shines all on its own or with the added boost of an amp. The Hummingbird gets high marks for its playability and comfortable fretting. Barre chords are a breeze on this beautiful budget acoustic guitar.
10. Jasmine S34C NEX Acoustic Guitar
The Jasmine S34C NEX is a beautiful acoustic with an ergonomic Venetian cutaway, and priced at a level anyone can afford. It features a select laminate spruce top with Jasmine's Advanced "X" Bracing, as well as sapele back and sides. Chrome tuners and full body binding round out this excellent beginner acoustic.
Jasmine S34C NEX Standout Specs:
Spruce top
Venetian cutaway allowing for upper fret access
Smooth satin finish
Unbeatable pricing
Jasmine has a long history of creating high quality instruments priced at an unbelievable value. The S34C NEX is no exception – and it plays, handles, and sounds like a much more expensive guitar. Great quality and awesome pricing make this a must have for anyone looking to add to, or start, their acoustic guitar collection.
The Next Step
Now that you've picked out a beautiful and budget-friendly acoustic guitar, are you wondering what to learn first?
Check out this helpful guide on fingerpicking vs flatpicking and which is right for you to help discover the next step of your guitar journey. Put that awesome new acoustic of yours to good use!
Thanks for reading! And as always, happy picking!
Ready to Get Better at Guitar, Faster?
Whenever you're ready to take your guitar playing to the next level, check out a few of my favorite resources below:
The Best Acoustic Guitar Strings – A unique polymer coating makes these guitar strings last for months or even years at a time, making for an exceptional value. They provide the perfect mix of boom, range, twang, and brightness that acoustic music is known for. — CLICK HERE TO LEARN MORE
The Best Acoustic Guitar – Beloved by everyone from Paul Simon to Gordon Lightfoot, the Martin D-18 is one of Martin's most legendary guitars ever… It's an excellent, premier quality acoustic guitar for bluegrass, country, folk, rock and more. This is also what I play myself — CLICK HERE TO LEARN MORE
Chords, Tabs & Video Lessons for 100 Epic Songs – This free guide that I created for fellow guitarists gives you chords, tabs, and video lessons for the 100 best songs to learn on guitar… I spent many hours putting this guide together to help you get better at guitar, faster. — CLICK HERE TO GET IT FREE
Fingerpicking vs Flatpicking Guitar – Learn which picking style is right for YOU by exploring examples, history, and popular players of each style. Discover essential techniques and pros and cons of each approach. — CLICK HERE TO GET IT FREE